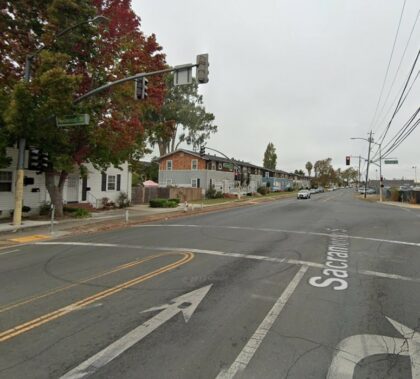 A 24-year-old pedestrian woman, Elena H., was hospitalized after a vehicle hit her in Vallejo on Tuesday afternoon, September 5, 2023.
According to the Vallejo Police Department, the incident occurred in the crosswalk at Sacramento and Redwood Streets at around 12:00 p.m.
Authorities reported that the pedestrian was walking to the pharmacy to buy medication for her father when she was struck by a vehicle. Video surveillance captured when the vehicle turned left and crashed into the woman in a marked crosswalk.
The victim was left with serious injuries to her skull and ribs and suffered from blood clots. She was transported to North Bay Medical Center in Fairfield.
The driver remained at the scene to cooperate with the police and was discovered to have no license. Officials said the driver was issued a misdemeanor citation and released.
No additional information regarding the incident was disclosed. The victim's family demands justice and wants the driver held fully accountable.
Dedicated Pedestrian Accident Lawyers in Vallejo, Solano County, CA
California law makes no distinction between pedestrians, bicyclists, motorists, or passengers; they are all protected equally. You are entitled to compensation if a negligent driver injures you or kills a loved one.
We are confident that our highly skilled legal team will provide sound legal advice during your free consultation. They will consider all relevant factors that may impact the settlement offer, and the details of your case will be thoroughly discussed.
You can rely on our team of Vallejo pedestrian accident lawyers at Arash Law, under Arash Khorsandi, Esq.'s direction, to help you with the insurance claim or to represent you in court proceedings.
Our firm has recovered over $500 Million for California clients and is widely acknowledged for its success and reputation as one of California's most trusted personal injury law firms.
If you want to speak with one of our lawyers, please call (888) 488-1391 or fill out the "Do I Have a Case?" form.


What to Do After A Pedestrian Accident
You may find it difficult to make decisions after a car accident, but your words and actions at the accident scene may significantly impact your lawsuit. Therefore, you must be ready to deal with it before it happens. Consider these recommendations to maximize the value of your injury claim:
Call the police after the accident, and make sure the officer creates an accident report.
Document your injuries, the accident scene, property damage, weather conditions, road conditions, and the vehicle that struck you.
Take a picture of the driver at fault's license, insurance card, and license plate.
Obtain all eyewitnesses' names, contact information, or anyone who has seen anything.
Visit a doctor or other healthcare professional immediately and inform them of all affected parts of your body.
Keep a journal detailing your injuries and recovery. Describe how you feel, the treatment you receive, and the costs you pay.
Consult a lawyer before accepting a settlement offer from an insurance adjuster.
Stay off social media. Please don't post about your accident or its circumstances.
Contact a trustworthy pedestrian accident lawyer in California as soon as possible to discuss your case.
Pedestrian Accident Statistics
Because pedestrians lack protection, they are more likely to be injured or killed in accidents. Recently, pedestrian fatalities and vehicle-related damages have increased alarmingly in the United States.
According to the Governors Highway Safety Association, pedestrian fatalities increased by 27% between 2007 and 2016, while other traffic-related deaths decreased by 14%.
In 2017, 5,977 pedestrians died in the United States, averaging 88 deaths per day. There were also approximately 137,000 non-fatal pedestrian injuries treated in hospitals.
A recent study found that California carries the highest risk for pedestrian injuries and fatalities compared to other states. Approximately 55,000 pedestrian accidents and 6,516 pedestrian deaths were reported by the California Department of Transportation in 2020.