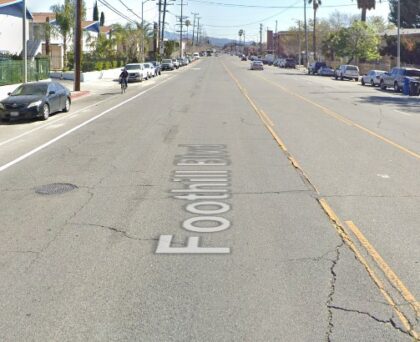 An elderly pedestrian woman was killed, while a female driver was hospitalized after a DUI two-vehicle collision in Sylmar, Los Angeles, on Thursday evening, September 7, 2023.
According to Los Angeles Police Department officer Jader C., the incident occurred in the 14000 block of Foothill Boulevard around 8:45 p.m.
LAPD officials stated that a Ford Fusion heading north on Foothill started to drift and hit a parked car. A passenger in the parked car exited the vehicle before the collision, and the impact resulted in the pedestrian being thrown from where she stood. After the initial collision, the Fusion struck several other vehicles.
The elderly victim was pronounced dead at the scene, while the other woman was transported to a nearby hospital and has since been released. The victims' identities are being withheld pending the results of the investigation.
The Ford driver was identified as 33-year-old Juan M. He sustained minor injuries in the crash and was arrested on DUI and murder charges. The authorities could not determine what substance he was allegedly under the influence of.
Dedicated DUI Accident Lawyers in Los Angeles, CA
DUI accidents are tragic events that could have been avoided with one good decision: "Don't drink and drive." After a collision, the drunk driver is liable to pay the victim's medical bills after a collision. It may be difficult for injury victims to make ends meet due to medical bills and lost wages.
It may be challenging to prevent DUI accidents from happening completely, but California law protects those who suffer injuries as a result of them.
Our renowned Los Angeles drunk driving accident victim lawyers at Arash Law, led by Arash Khorsandi, Esq., will effectively represent you in these court proceedings. One of the finest in California, our firm has recovered more than $500 Million for clients.
To schedule a free consultation with one of our lawyers, call (888) 488-1391 or complete our "Do I Have a Case?" form.

What Should You Do After a DUI Accident?
Drunk driving collisions frequently result in physical injury and psychological, material, and logistical issues. Protect yourself and your loved ones after a collision by exercising extra caution. This checklist will help you deal with its aftermath:
It should be your top priority to get medical help. Also, check the condition of the other people involved.
Inform the police about the collision. A police investigation will be conducted to determine whether the driver was under the influence of drugs or alcohol.
Get essential details such as the driver's name, contact details, license plate number, and insurance information.
Take pictures of the scene of the accident, including the damaged vehicles and the victims' injuries.
You must report the accident to your insurance company and provide the necessary information regarding the accident.
Please speak with our DUI accident lawyers in California. They'll defend your rights and ensure you get the compensation you deserve.
Fatal DUI Accident Statistics
According to the National Highway Traffic Safety Administration (NHTSA), drunk driving accidents cause 32 deaths daily, one every 45 minutes. As a result of drunk driving in 2020, 11,654 traffic deaths were recorded, an increase of 14% over 2019.
Based on a study by the California DUI Management Information System, fatal accidents related to alcohol increased by 5.8% between 2016 and 2017. Intoxicated drivers are a risk to themselves and everyone else on the road.
Drunk driving caused the loss of 949 precious lives in California in 2019. This is 2.4 per 100,000 people, while the national rate is 3.1 per 100,000. Drunk driving was a factor in 28.1% of road fatalities in the US and 26.3% in California in 2014.