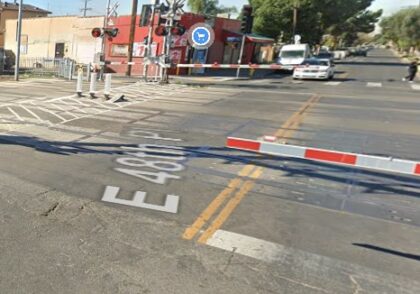 At least one person was injured after a Metro Blue Line Train collided with a vehicle last Friday morning outside Vernon on September 8, 2023.
The Los Angeles Fire Department responded to reports of the incident at around 9:30 a.m. on 48th Place and Long Beach Avenue.
Emergency response teams then rushed the injured person to a nearby hospital, but the severity of the injuries was unspecified.
No further details were released, and investigations are ongoing to determine the factors involved and what led to the collision.
Anyone with information regarding the incident is encouraged to contact local authorities.
Award-Winning Train Accident Lawyers in Los Angeles County
It is beneficial and ideal to seek legal counsel from a personal injury attorney if you or someone you know has been involved in a train accident due to another person's negligence. Whether it's an accident or wrongful death, our personal injury lawyers can help you as an impartial third party.
Our experienced train accident attorneys provide free initial consultations where we assess the specific circumstances of your case, explain the legal procedures involved, and consider essential factors that could impact the potential compensation you may be eligible to receive.
You can depend on our award-winning Los Angeles county train accident lawyers at Arash Law, under Arash Khorsandi, Esq., to effectively help you with your insurance claim or represent you in court proceedings. Our firm has recovered more than $500 Million for California Clients and is widely acknowledged for its success and reputation as one of California's leading personal injury law firms.
If you want to speak with one of our lawyers, please call (888) 488-1391 or fill out the "Do I Have a Case?" form.

Steps to Take After A Train Accident
Accidents involving trains can cause serious injuries and even death. If you or someone close to you has been injured in a railroad disaster, take the necessary steps to ensure your safety and legal protection. The following steps will help you pursue compensation after a railway accident:
Prioritize Getting Help: Prioritize getting immediate medical attention and contact the authorities if you are directly involved in the accident.
Gather Potential Evidence: Gather all the necessary information you need on the scene, take pictures, take the identification of the others involved, plate numbers, and reports recorded by authorities.
Work with a California Train Accident Attorney: Work with an experienced train accident lawyer to help you navigate the legal process and receive fair compensation.
Do Not Admit or Accept Fault: Refrain from admitting or stating anything about the accident that can harm your case, as this may affect your ability to receive compensation.
Avoid Making Statements: Avoid making unnecessary statements about the incident without consulting an attorney. These statements could be used against you in legal proceedings.
Do Not Settle: Avoid settling negotiations directly with the perpetrator, which could result in lower compensation. It's essential to clearly understand the extent of the damages before considering any settlement offers through a legal team.
Never Sign Without Consultation: Only sign documents with an attorney present or after consulting one to protect you and your rights to be exercised fully.
Discuss your accident with one of our reliable California train accident lawyers. Please contact us at (888) 488-1391.
Railroad Accident Statistics
According to the National Safety Council, 893 people died in train accidents in 2021, an increase of over 20% from 744 deaths compared to 2020.
Approximately 5,780 people were hospitalized for potentially fatal injuries between 2020 and 2021, and at highway-rail grade crossings, deaths rose 21%.
In 2021, over 3216 commuters were injured from train accidents, and over a third of those injured eventually recovered. As of the same year, over 266 of 893  recorded pedestrians were killed.