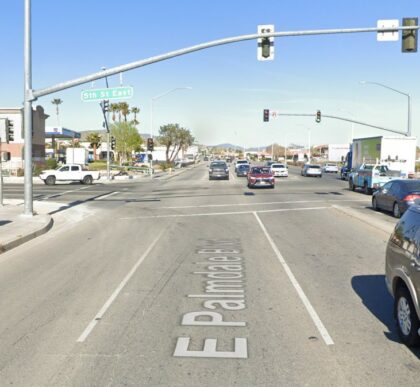 A pedestrian was fatally struck by a vehicle while trying to cross the road in Palmdale on Friday morning, September 8, 2023.
Palmdale Sheriff's Station officers were dispatched to the scene around 1:45 a.m. after a collision involving a pedestrian and a silver Chevrolet Camaro on Palmdale Boulevard near Fifth Street East.
Authorities stated that two vehicles were heading eastward when a pedestrian ran south across Palmdale Boulevard. The first vehicle was able to swerve away and avoid the pedestrian, but the silver Chevy Camaro behind it was unable to react in time and struck the victim.
The driver of the Camaro immediately contacted authorities and medical responders following the collision and is cooperating with the investigation. When officers arrived, the pedestrian was pronounced dead at the scene.
The identity of the victim was not released to the public. The Sheriff's Department is still carrying out investigations.
Award-Winning Pedestrian Accident Lawyers in Palmdale, Los Angeles County
It is beneficial and ideal to seek legal counsel from a personal injury attorney if you or someone you know has been involved in a car accident due to another person's negligence.
Our experienced pedestrian accident lawyers provide free initial consultations where we assess the specific circumstances of your case, explain the legal procedures involved, and consider essential factors that could impact the potential compensation you may be eligible to receive.
You can rely on our award-winning Los Angeles County pedestrian accident lawyers in Arash Law, under Arash Khorsandi, Esq., to effectively represent you in these court proceedings. Our firm has recovered more than $500 Million for California Clients and is widely acknowledged for its success and reputation as one of California's leading personal injury law firms.
If you want to speak with one of our lawyers, please call (888) 488-1391 or fill out the "Do I Have a Case?" form.


8 Steps to Take After a Pedestrian Accident
It can be challenging to think clearly after a car accident. However, It is vital to realize that the words you use and the actions you take at the scene can significantly impact the outcome of your lawsuit. To maximize the value of your injury claim, follow these recommendations:
Prioritize Getting Help: Prioritize getting immediate medical attention and contact the authorities if you are directly involved in the accident.
Gather Potential Evidence: Gather all the necessary information you need on the scene, take pictures, take the identification of the others involved, plate numbers, and reports recorded by authorities.
Work with a California Pedestrian Accident Attorney: Work with an experienced pedestrian accident lawyer to help you navigate the legal process and receive fair compensation.
Do Not Admit or Accept Fault: Refrain from admitting or stating anything about the accident that can harm your case, as this may affect your ability to receive compensation.
Avoid Making Statements: Avoid making unnecessary statements about the incident without consulting an attorney. These statements could be used against you in legal proceedings.
Do Not Settle: Avoid settling negotiations directly with the perpetrator, which could result in lower compensation. It's essential to clearly understand the extent of the damages before considering any settlement offers through a legal team.
Never Sign Without Consultation: Only sign documents with an attorney present or after consulting one to protect you and your rights to be exercised fully.
Discuss your accident with one of our reliable California pedestrian accident lawyers. Please contact us at (888) 488-1391.
Pedestrian Accident Statistics
According to a study by the Insurance Institute for Highway Safety, turning crashes are more likely to occur in larger vehicles; pedestrians who are struck by large vehicles suffer more severe injuries. Pickups had the highest risk of being involved in a left-turn crash that killed a pedestrian, 269.6 percent higher than passenger cars.
Minivans and large vans were associated with a 172.0 percent increase in odds, while pickups and SUVs were associated with a 93.6 percent increase. There has been a significant increase in the odds of a pickup or SUV causing a pedestrian fatality in a right-turn crash at 88.6 percent and 63.4 percent, respectively.
Hit-and-run accidents caused twenty-four percent (24.3 percent) of pedestrian fatalities in 2020. Deaths from pedestrians increased by 46.2% between 2011 and 2020, while deaths from other traffic increased by 14.4%. Deaths from pedestrians increased by 3.9 percent from 2019 to 2020, despite a 13.2 percent decrease in driving.