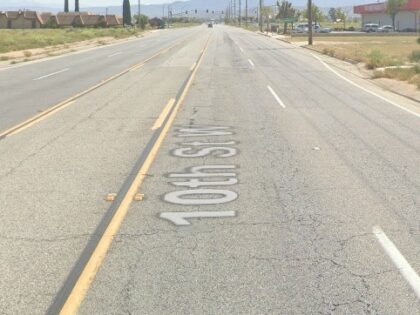 A female driver died following a two-vehicle crash that involved a big rig in Palmdale on Sunday morning, September 10, 2023.
According to the California Highway Patrol, responders were dispatched to the crash scene in the southbound lanes, south of 10th Street West. around 3:00 a.m.
Authorities stated that the victim, who lived in Littlerock, was driving a 2008 Honda Civic when she hit the guardrail on the right side of the road, which left her car unable to move in the third traffic lane.  Subsequently, a southbound 2016 International big rig collided with her car.
Emergency responders swiftly transported the woman to Antelope Valley Medical Center in Lancaster. Unfortunately, she succumbed to her injuries and did not survive. Officials said the big rig driver did not sustain any injuries.
Details concerning the circumstances leading to this tragic collision and the deceased person's identity are currently unavailable.
The investigation is ongoing.
Our Most Dedicated Truck Accident Lawyers in Palmdale, CA
When individuals find themselves in the unfortunate situation of being involved in a truck accident, they often face various challenges and legal complexities. In such cases, the expertise of a dedicated truck accident lawyer can be invaluable.
Contact our law firm to discuss your case with one of our experienced truck accident attorneys. During our free consultation, our legal experts will outline the next steps and evaluate factors influencing the settlement amount.
You can rely on our most dedicated Palmdale truck accident lawyers at Arash Law, under the direction of Arash Khorsandi, Esq., to help you with the insurance claim or effectively represent you in court proceedings. Our firm has recovered more than $500 Million for California clients.
Set up a free consultation with one of our reputable attorneys by calling (888) 488-1391 or filling out our "Do I Have a Case?" form.

Nine Steps Handling the Aftermath of a Truck Accident
There is a greater risk of injury or death in accidents involving trucks. Prioritizing your health, safety, and rights is essential. Following a truck collision, you should follow these steps to ensure your safety and handle the situation appropriately:
Call 911 to report your accident.
Check your body for injuries. Check on the condition of other people involved.
Wait for the police in a safe area. Disabled vehicles should ideally be moved to the side of the road.
Do not admit fault when speaking with a legal or insurance authority. Instead, stick to factual information.
Get medical help right away. Even if you don't experience any symptoms, conducting tests and scans can detect possible internal injuries.
Remember that some victims might feel guilty, which might cause their insurance company to deny their claim.
Get a copy of the completed report. Send the local authorities a formal request.
Contact us at (888) 488-1391 to learn how our California big-rig truck accident lawyers can help you.
Fatal Big Rig Accident Statistics
Truck occupants, drivers, and passengers generally enjoy better protection during accidents than those in smaller vehicles such as cars. Research has consistently shown that individuals in smaller vehicles face a heightened risk of sustaining severe injuries or fatalities in a collision, mainly when it involves large trucks or big rigs.
According to statistics from the National Highway Traffic Safety Administration, there were 4,965 fatalities involving heavy vehicles in the United States in 2020. While a record high of 5,032 fatalities was reported in 2019, there was a subsequent 5% decrease in fatalities the following year. Nonetheless, 71% of fatal car accidents in the US involve trucks.
In 2020, large trucks accounted for 8.9% of all vehicles involved in fatal collisions in the US. In California, in 2015, collisions between trucks and cars resulted in losing at least 90 lives. Texas and Florida were the only states with a minimum of 50 truck-related fatalities that same year.