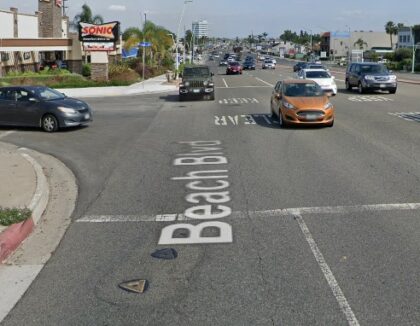 A 46-year-old pedestrian was fatally struck by a vehicle in Huntington Beach on Sunday evening, September 10, 2023.
According to the Huntington Beach Police Department, the fatal collision happened around 10:00 p.m. along Beach Boulevard, north of Speer Drive.
The victim was identified as Gerardo G., a resident of Huntington Beach, who was found in a roadway after a grey 2003 Lincoln Navigator hit him. He was taken to a nearby hospital and later declared dead.
The driver of the Navigator was identified as a 33-year-old female who remained at the scene to cooperate with investigators. Reports indicate that the driver was heading southbound in the #4 lane of Beach Boulevard when she collided with the victim.
The authorities are currently conducting an investigation into the fatal collision and have yet to release further information.
Relentless Pedestrian Accident Lawyers in Huntington Beach
All pedestrians are entitled to the same level of safety as drivers and bikers in Huntington Beach. If a driver's negligence caused the death of your loved one as a pedestrian, they could be eligible for financial compensation.
You can file a claim on their behalf with the help of our relentless Huntington Beach pedestrian accident lawyers at Arash Law, headed by Arash Khorsandi, Esq., who will stop at nothing to obtain the highest possible compensation for your deceased loved one. Our clients have been awarded compensation totaling $500 Million.
Contact us at (888) 488-1391 or fill up our "Do I Have a Case?" form to set up a free consultation with one of our lawyers.

What to Do After a Pedestrian Accident
The news of your loved one's accident may have devastated you. However, you can still obtain justice for them by protecting their rights for proper compensation. The following tips may help you avoid reducing their personal injury claim value:
Contact the police after the accident: You will need the official report of the fatal collision involving your loved one to support your claim.
Obtain all the vital information: You need to gather the eyewitnesses' names and contact information, as well as the information of the other parties involved.
Submit a claim to the insurance company: You need to only state the facts about the accident and avoid exaggerating any details when speaking with insurers.
Stay off social media: You need to avoid posting anything related to the fatal collision because insurers can use your statements and activities online to minimize the compensation for your claim.
Retain legal assistance: You should consult with a good pedestrian accident lawyer before accepting a settlement offer from an insurance adjuster.
Fatal Pedestrian Accident Statistics
According to the data provided by the Insurance Institute for Highway Safety, 7,388 pedestrians were killed in 2021. These numbers comprised about 17 percent of the total crash deaths in the US.
Most pedestrian fatalities happen on major roads, with 4,464 recorded deaths. There were a total of 49 victims who were either killed or injured in pedestrian-related crashes in Huntington Beach, based on the data provided by the California Office of Traffic Safety.
Most pedestrian accidents happen when drivers fail to yield to pedestrians or stop suddenly. If you choose to take your loved one's case to court, you should speak with a lawyer who focuses on these situations.