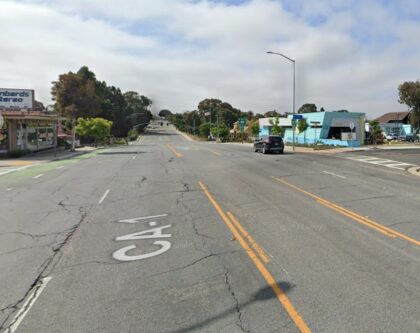 A motorist was injured after a DUI two-vehicle collision in San Luis Obispo on Sunday morning, September 10, 2023.
According to a San Luis Obispo Police Department officer, the incident occurred at the intersection of Santa Rosa Street and Montalban Street shortly after midnight.
Authorities stated that a SLOPD officer witnessed the collision between the white Audi and the black Subaru. The Audi was traveling south on Santa Rosa at high speed when it rear-ended the Subaru, causing the Subaru to lose control and halt on a sidewalk near a Jack in the Box.
Officials said the Audi was traveling southbound when it collided with a light pole on an overpass. Subsequently, the Audi driver was taken into custody on suspicion of driving under the influence. Meanwhile, the Subaru driver was transported to a nearby hospital to receive treatment for moderate injuries.
No further information was released regarding the identities of the people involved. Anyone with information about the crash is encouraged to contact the authorities immediately.
Dedicated DUI Accident Lawyers in San Luis Obispo, CA
Keeping DUI accidents at bay is as simple as not drinking and driving. Drunk drivers must pay for the medical expenses of their victims. Medical bills and lost wages can make injury victims struggle to make ends meet.
Although DUI accidents are extremely difficult to prevent completely, California law protects those injured due to these accidents.
Our renowned San Luis Obispo drunk driving accident victim lawyers at Arash Law, led by Arash Khorsandi, Esq., will effectively represent you in these court proceedings. As one of California's most successful law firms, we have recovered more than $500 Million for clients.
To schedule a free consultation with one of our lawyers, call (888) 488-1391 or complete our "Do I Have a Case?" form.


What Should You Do After a DUI Accident?
Those who decide to drive under the influence endanger themselves and those around them. Protect yourself and your loved ones after a collision by taking extra precautions. This checklist will help you deal with its aftermath:
It should be your top priority to get medical help. Also, check the condition of the other people involved.
Inform the police about the collision. A police investigation will be conducted to determine whether the driver was under the influence of drugs or alcohol.
Get essential details such as the driver's name, contact details, license plate number, and insurance information.
Take pictures of the scene of the accident, including the damaged vehicles and the victims' injuries.
You must report the accident to your insurance company and provide the necessary information regarding the accident.
Please speak with our DUI accident lawyers in California. They'll defend your rights and ensure you get the compensation you deserve.
DUI Accident Statistics
According to the National Highway Traffic Safety Administration (NHTSA), drunk driving accidents cause 32 deaths daily, one every 45 minutes. Drunk driving caused 11,654 traffic deaths in 2020, an increase of 14% over 2019.
The California DUI Management Information System found that fatal accidents involving alcohol increased by 5.8% between 2016 and 2017. Drinking and driving pose a risk to everyone on the road, including the driver.
California lost 949 lives due to drunk driving in 2019. This is 2.4 per 100,000 people, while the national rate is 3.1 per 100,000. Drunk driving was a factor in 28.1% of road fatalities in the US and 26.3% in California in 2014.