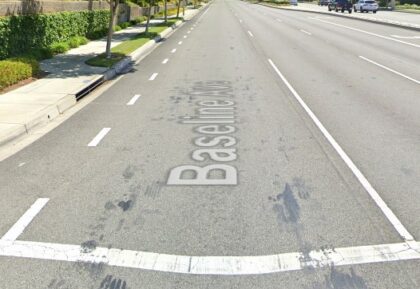 An 86-year-old woman was killed following a car collision in northern Fontana on a Monday night, September 11, 2023.
Officers from the Fontana Police Department were dispatched to the intersection of Baseline Avenue and Village Parkway around 8:32 p.m.
Upon the arrival of emergency teams, the senior citizen, Maria P., was found unresponsive in one of the vehicles. She was immediately rushed to a nearby hospital, where she later succumbed to her injuries and died.
No additional details were provided regarding the incident, and no other injuries were mentioned.
The Major Traffic Accident Investigation Team from the Fontana Police Department is investigating the incident.
Our Top Car Accident Lawyers in Fontana, CA
It is beneficial and ideal to seek legal counsel from a personal injury attorney if you or someone you know has been involved in a car accident due to another person's negligence.
Our experienced car accident attorneys provide free initial consultations where we assess the specific circumstances of your case, explain the legal procedures involved, and consider essential factors that could impact the potential compensation you may be eligible to receive.
You can rely on our most trusted Fontana car accident lawyers at Arash Law, under Arash Khorsandi, Esq., to help you with the insurance claim or effectively represent you in court proceedings. Our firm has recovered more than $500 Million for California clients and is widely acknowledged for its success and reputation as one of California's leading personal injury law firms.
If you want to speak with one of our lawyers, please call (888) 488-1391 or fill out the "Do I Have a Case?" form.

7 Steps to Take Following A Car Accident
A driver's recklessness can cause severe damage and affect the lives of others. If you or someone you know has been involved in a major vehicle accident due to someone else's negligence, the following steps may help you.
Contact emergency respondents and authorities and inform them about the collision. Authorities will create an official report based on accident-related data.
Inspect yourself for injuries and prioritize yourself.
Obtain necessary information from the other involved motorist's name, phone number, and insurance information. Photograph license plates, automobiles, and other potential evidence.
Complete reports following the instructions given by California insurance firms. There are deadlines for these reports, so file them as soon as possible.
Provide the necessary information to your claims adjustor. Consult an attorney before recording comments or accepting compensation offers from insurance companies.
Keep all necessary documents, such as the police report, medical bills, driver's ID of those involved, and injury treatment plans.
Discuss your vehicle accident with one of our reliable California car accident lawyers. Please contact us at (888) 488-1391 immediately.
Car Accident Fatality Statistics
Unintentional injuries and fatalities caused by vehicles have slightly decreased nationwide since 2021. According to the National Highway Traffic Safety Administration, despite a decrease of 0.3% in accidents from 2021, the numbers are still around the 40,000s, with 42,795 total fatalities by 2022. Compared to the number of fatalities in 2020 of 46,980, the numbers have been on a relatively positive and steady decrease.
According to the National Safety Council, in 2020, automobile accidents were the cause of 42,338 fatalities, exceeding the 39,107 recorded the year before. 3,847 fatalities in California alone were attributable to traffic-related events.
Single-car crashes accounted for 59% of these incidences, while multi-vehicle collisions comprised 41%. Side impacts were the most fatal of these crashes, which also caused many injuries. There were approximately 8,000 side crash reports made in 2020.