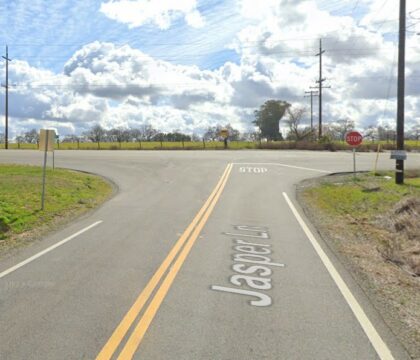 A motorcycle rider was killed following a DUI vehicle collision in Wheatland on Tuesday evening, September 12, 2023.
According to the Wheatland Police Department, the incident occurred at around 8:46 p.m. when a 24-year-old woman was driving an eastbound Ford pickup truck on Spenceville Road, west of Jasper Lane, while a Harley-Davidson motorcycle rider was traveling westbound in the same area
Officer Brian Wittmer reported that the Ford pickup driver, Clara Ann D., turned left into a private driveway directly in front of the Harley-Davidson. Despite the motorcycle rider attempting to apply their brakes, the collision occurred due to the woman's reported failure to yield the right of way.
Regrettably, the motorcycle rider sustained severe injuries and was pronounced deceased, while the Ford pickup driver did not sustain any injuries in the accident.
Wittmer stated that the woman fled the collision on foot but was subsequently found a short time later at her residence. Officers at the scene detected signs and symptoms of alcohol intoxication, leading to her arrest for driving under the influence of alcohol.
She was later booked into Yuba County Jail, facing charges that included vehicular manslaughter with gross negligence, driving under the influence of alcohol causing injury, and hit-and-run, with bail set at $500,000.
The name of the deceased Harley-Davidson rider will be disclosed once their next of kin has been notified.
Our Knowledgeable Drunk Driving Accident Victim Lawyers in Wheatland, CA
Individuals injured in accidents caused by drivers under the influence of alcohol or drugs have the right to seek compensation through legal action. These victims grapple with various difficulties, such as financial strain due to lost wages, medical bills, and related challenges.
Our law firm handles cases involving DUI-related and hit-and-run accidents throughout California, including Wheatland. Our primary commitment is to provide unwavering support and robust advocacy for the rights of these victims. Drivers operating vehicles while impaired pose a substantial risk to other road users. Holding these individuals accountable for the harm they inflict is essential for upholding justice and advancing road safety.
You can rely on our most trusted Wheatland drunk driving accident victim lawyers at Arash Law, under the direction of Arash Khorsandi, Esq., to help you with the insurance claim or effectively represent you in court proceedings. Our firm has recovered more than $500 Million for California clients.
If you want to speak with one of our lawyers, please call (888) 488-1391 or fill out the "Do I Have a Case?" form.


10 Things You Need To Know Following a DUI Accident
Being involved in a DUI accident can be challenging and emotionally draining. In the aftermath of such an incident, it is essential to understand the necessary actions to protect your rights and prioritize your well-being.
This section provides valuable information and advice on the essential steps following a DUI accident:
Ensure Safety: Prioritize safety for yourself and others involved. Move to a safe location, away from traffic or any immediate dangers.
Seek Medical Attention: Check yourself and others for injuries, and immediately seek medical attention for anyone who needs it. Even if injuries seem minor, getting a thorough medical evaluation is essential.
Report the Accident: Contact local law enforcement to report the DUI accident. Provide them with accurate and detailed information about the incident.
Gather Information: Collect essential details about the accident, including the other driver's contact information, insurance details, and license plate number. Also, gather contact information from any witnesses present at the scene.
Document the Scene: Take photos or videos of the accident scene, including vehicle damage, injuries, road conditions, and other relevant factors. This documentation can be valuable for insurance claims and legal purposes.
Refrain from Admissions or Statements: Avoid admitting fault or making any statements about the accident without consulting an attorney. Announcements made at the scene could be used against you later.
Contact Your Insurance Company: Inform your insurance company about the accident, providing them with accurate and truthful information. Follow their instructions regarding filing a claim.
Consult our California Drunk Driving Accident Victim Lawyer: Seek legal advice from an experienced DUI accident lawyer specializing in personal injury cases. They can guide you through the legal process, protect your rights, and help you seek appropriate compensation for your damages.
Preserve Evidence: Keep copies of medical records, accident reports, insurance correspondence, and any other relevant documents related to the accident. These will be important for your case.
Follow Medical Treatment: Adhere to all prescribed medical treatments and attend follow-up appointments. Document your medical expenses and keep records of any lost wages or other financial losses resulting from the accident.
Fatal DUI Accident Statistics
Driving while impaired by drugs, whether prescription medications, illicit substances, or marijuana, is recognized as a criminal offense with significant legal and financial consequences.
Depending on the circumstances, individuals convicted of this offense for the first time may incur costs of up to $10,000. These expenses are estimated to reach as much as $13,500 in California. Alarming data from 2018 demonstrates that 42% of drivers involved in fatal accidents tested positive for drugs, and this proportion continues to increase annually.
The Office of Traffic Safety (OTS) and various stakeholders are collaborating to raise awareness regarding the perils of drug-impaired driving. Their collective efforts aim to mitigate these risks, reduce traffic fatalities and injuries, and ensure safer roads across California.