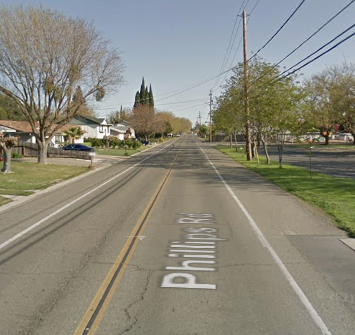 A California daycare owner is accused of grabbing one of the kids in her care and is charged with child abuse in Yuba City on Wednesday, September 14, 2022.
The incident occurred last week Wednesday at a daycare in Yuba City.
S. Merryman claimed that her 3-year-old son Sebastian was hurt.
She held up a picture of the back of her son's arm and showed the bruise from the handprint of the owner grabbing his arm.
Merryman claimed that it took place at a daycare whose proprietor, Rachel R., has a license to operate it out of her residence in Yuba City, California.
Her son reportedly told her that Raya was to blame for the bruise.
Merryman claimed that Raya confessed to grabbing him when she was confronted.
Raya allegedly admitted to Merryman that she had become irate. Merryman claimed Raya informed her that Sebastian had rammed a toy into her fireplace while he was playing with it.
She stated that she then snapped, grabbing him by the arm. He slipped and hit his head on the fireplace after that.
Raya was detained on suspicion of abusing children on Wednesday and was later released on bail.
Raya refused to comment on the incident when asked by local news reporters.
According to the Sutter County District Attorney's Office, Raya is accused of misdemeanor child abuse and will appear in court on October 17 for her arraignment.


Daycare Injury Statistics
Abuse of a child in daycare or child care refers to any instance in which a child is subjected to physical or psychological harm while in the care of another person. This is often the case because both of the child's parents need to earn a living, the child has unique educational opportunities, or the child has special needs.
When both parents need to work, many parents in California send their kids to daycare. California has stringent regulations for the operation of daycare centers to ensure the safety of the children who use them.
Despite regulations, many children are injured at daycares. Toys and surfaces that aren't properly disinfected, cleaning supplies that aren't properly stored, and playground equipment that hasn't been properly maintained are all potential sources of harm for children.
Sutter County Daycare Injury Lawyers
When bringing a claim for damages against a daycare, the plaintiff must show that the facility had a legal obligation to take reasonable precautions to keep the child safe.
The next step is for the plaintiff to show that the daycare center and its employees breached their duty of care and that this breach was the direct and proximate cause of the child's injuries. The child's injury must have been reasonably predictable.
Finally, the plaintiffs must demonstrate the specific nature and monetary value of the child's damages.
A court will use the prudent daycare center standard to decide whether or not the daycare did what it should have to keep the kids safe. Here, the court must determine what actions a reasonable daycare center would take under the same circumstances.
Your child may be in a lot of pain and experience a wide range of symptoms after a daycare injury, depending on the severity of the injury. Temporary cognitive difficulties and behavioral changes have been linked to concussions. A lack of physical activity and the resulting decline in muscle mass is one of the consequences of a broken bone. Scarring from a burn may be permanent. Our Sutter County daycare injury lawyers at Arash Law have the skills, expertise, and resources you need to help you seek justice for your child.
Daycare center negligence, recklessness, and unlawful acts occur more often than most parents want to believe. We hope we never have to hear from you regarding a daycare injury, but if the worst does happen, call us at (888) 488-1391.