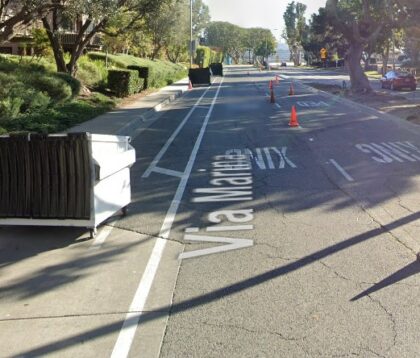 At least two people, including a firefighter, were injured when a third-alarm fire broke out Thursday afternoon in a Marina del Rey apartment building in Los Angeles County on September 14, 2023.
The Los Angeles County Fire Department responded to the reports of a fire around 2:48 p.m. at the three-story Mariner's Village apartment complex along the 4600 block of Via Marina.
Upon the arrival of firefighters, the fire went to the second alarm and then to the third shortly after. The fire crews reportedly took over two hours to contain the flames on the first and second floors. The entire building was declared fully under control at around 6:00 p.m.
The LACFD reported that a person suffered from burn injuries, although the extent and severity of the burn were not mentioned. A firefighter also sustained unspecified minor injuries while putting out the flames. Both of the injured individuals were immediately rushed to the hospital.
The cause of the fire is currently unknown, and an investigation into the incident is ongoing.
Award-winning Burn Injury Lawyers in Los Angeles County
A skilled lawyer can help heal wounds far beyond the surface after being badly burned. Filing a claim after suffering substantial harm can help you receive fair compensation. It is ideal to consult a lawyer before filing a lawsuit or trying to settle with the defendant's insurance company.
If you or your loved ones have suffered burn injuries in California, please contact our law firm. We wish to assist you in getting the compensation you deserve.
Our award-winning Los Angeles County burn injury lawyers at Arash Law, led by Arash Khorsandi Esq., have the recognition and vast experience to advocate for accident victims. Our firm has recovered more than $500 Million for California clients and is widely acknowledged for its success and reputation as one of California's leading personal injury law firms.
Contact (888) 488-1391 or fill out the "Do I Have a Case?" form on our website to schedule a free consultation with one of our lawyers.

What Should I Do After A Fire Incident?
It can be challenging to think clearly after sustaining burn injuries. However, what you say and do at the accident scene can significantly impact the outcome of your claim against the negligent party. You can protect your personal injury claim value by following these guidelines:
Call 911 immediately, especially if you or a loved one was hurt. Law enforcement officials can interview witnesses and collect evidence for a report.
Find professional medical assistance immediately. Visit a hospital or your primary care provider immediately. Injuries may be treated less severely if treated promptly.
Always be straightforward and avoid making assumptions when communicating with authorities or your insurance provider.
Don't admit wrongdoing, not even to the police. Insurance companies may use such actions as evidence to reject victims' claims.
Gather all paperwork associated with the incident, including a copy of the police report, medical bills, the other driver's contact information, and a plan for treating your injuries.
Contact the appropriate authorities to obtain a copy of the police report.
Alternatively, you can use our online form. We will process your request as soon as we can access the report.
Get free guidance on making the most of your insurance claim from an experienced California burn injury lawyer.
Burn Injury Accident Statistics
Psychological and physical scars remain once burn victims recover from their injuries. Burn survivors often suffer from trauma, and victims may find returning to their everyday lives difficult.
According to the American Burn Association (2002), 1.1 million people in the US seek medical attention for burns annually. In reality, about 4,500 of them pass away every year. Up to 10,000 deaths annually in the United States are attributed to burn injuries and infections.
Burn injuries are still a significant cause of unintentional death and injury in the US. Emergency rooms treated about 486,000 burn or fire injuries between 2011 and 2015.