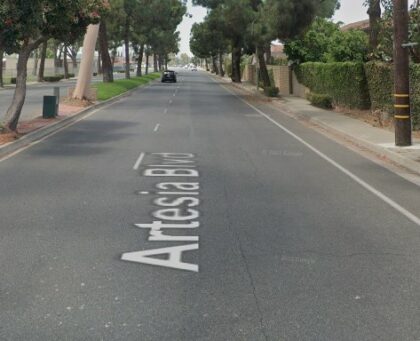 One female driver was killed after a suspected male DUI driver collided with her vehicle at an intersection in Redondo Beach on Monday evening, September 18, 2023.
The Redondo Police Department responded to the crash around 6:45 p.m., along the intersection of Artesia Boulevard and Ridge Street.
Initial investigation indicates that the 48-year-old, Cassandra B., was traveling southbound on Ridge Street at the time. Upon entering the intersection, she was struck by another vehicle driven by an intoxicated man in his 20s.
On the arrival of emergency teams, Cassandra B. was declared dead on the scene, while the male driver was rushed to the hospital, but the extent of his injuries was unspecified.
Officials did not release the male suspect's identity due to his current medical condition.
Authorities stated that the man may face charges of felony manslaughter while intoxicated by next week.
Award-Winning DUI Accident Lawyers in Redondo Beach, Los Angeles County
It is beneficial and ideal to seek legal counsel from a personal injury attorney if you or someone you know has been involved in a car accident due to another person's negligence.
Our experienced California DUI accident victim lawyers provide free initial consultations where we assess the specific circumstances of your case, explain the legal procedures involved, and consider essential factors that could impact the potential compensation you may be eligible to receive.
You can rely on our most trusted Los Angeles County DUI accident victim lawyers at Arash Law, under Arash Khorsandi, Esq., to help you with your insurance claim or represent you in court proceedings effectively. We have recovered more than $500 Million for California clients and are widely acknowledged for its success and reputation as one of California's leading personal injury law firms.
If you want to speak with one of our lawyers, please call (888) 488-1391 or fill out the "Do I Have a Case?" form.

Dealing With the Opposing Insurance Company: Top 5 Ways to Protect Yourself After Being a Victim of a DUI
Large insurance companies defend most drunk driving accident claims. One of the most important things you need to know is that the insurance company is never on your side. Please remember: the top concern of an insurance company is to protect its financial interests — they are thinking about their profits and their bottom line, not about offering full and fair compensation to you and your family.
Insurance companies put enormous resources into training representatives to protect company interests. After a significant DUI accident, you may receive a phone call or inquiry from the responsible driver's insurance company. Be very wary of taking this type of request. No matter how friendly they sound, an insurance adjuster is against you. They are not looking out for your best interests, and you cannot rely on them for advice. Below, our California DUI victim attorneys have compiled our top five tips for dealing with the insurance company after being injured in a drunk driving collision.
Never Admit or Accept the Blame
It is shocking to some people, but even in DUI accidents, insurance companies often try to push some of the blame onto the injured victim. If they can do so, it will allow them to reduce their liability. This means money is coming directly out of their pocket. Never admit or accept any of the faults for a DUI accident. A drunk driver should be held accountable for their misconduct. Victims should not discuss the issue of fault directly with an insurance adjuster.
Do Not Make a Statement
You have no obligation to give a recorded statement to the insurance company immediately after an accident. You will likely get many calls from an insurance adjuster asking for a statement. Why does the company want one so bad? The answer is simple: they want to find information to use against you in the claims process. Keep quiet. Your words can be twisted or misinterpreted. Make the insurance company talk to you through your lawyer.
Avoid Early Settlement Negotiations
With DUI accident cases, it is often difficult for insurers to avoid liability altogether. As such, they alter their tactics. In cases where liability is clear and obvious, insurers limit the value of an injured victim's settlement. One common tactic is to offer a quick, lowball settlement to the DUI accident victim. Do not settle your claim for less than you are owed. Let your DUI accident attorney handle the settlement talks.
Do Not Sign Any Documents
You should not sign anything from an insurance company without first consulting with an attorney. Often, insurers will ask injured victims to sign a full release of their medical records. Do not listen to their claim that a document is 'standard procedure.' They are looking for information to use to reduce your compensation. You may not be obligated to give them full access to your records. Your lawyer will make sure that your rights are protected.
Work Through Your DUI Accident Lawyer
There is no reason to go up against a big insurance company on your own. There is a lot on the line in most DUI accident injury claims. Insurance companies will pour resources into finding ways to reduce your settlement. The best thing you can do to protect your rights and interests is to work with the insurance company exclusively through an experienced California DUI accident lawyer. You have the right to legal representation. Use it.
DUI Accident Statistics
Driving under the influence of any substance—including authorized prescription pharmaceuticals, illicit drugs, and marijuana—is unlawful and carries severe financial and legal repercussions. The accompanying costs for first-time offenders might be as high as $10,000; in California, an infraction is projected to cost around $13,500.
A 2021 study by the California Department of Motor Vehicles shows an average of 455 DUI arrests for every 100,000 drivers in 2019. Totaling 124121 arrests for that year alone. With 27,333 alcohol-related crashes and 2,998 drug-related crashes.
California's Office of Traffic Safety is actively working with other partners to raise awareness about the risks associated with drugged driving to reduce injuries and deaths on the state's roads.