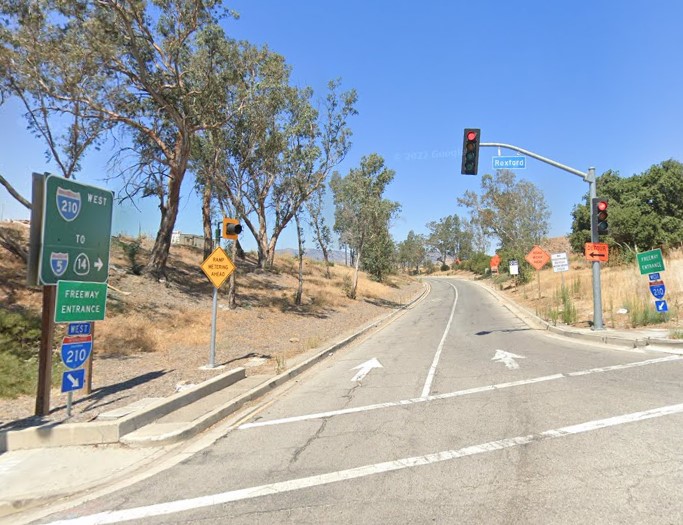 One of the three people inside a car died after a car crashed into a Caltrans forklift in a work zone on the 210 Freeway in the Sylmar neighborhood of the San Fernando Valley early on Saturday morning, October 22.
The Los Angeles Fire Department responded to a collision reported at 12:47 a.m. on the westbound 210 Freeway east of Roxford Street.
When arriving crews arrived, they discovered a car that had struck a Caltrans forklift in a work zone.
Three adult males were reported by LAFD, one of whom was dead and still inside the car.
The other two were both males in their 30s, and one of them managed to free himself before the LAFD arrived.
According to LAFD, the other male was briefly trapped inside the car before firefighters were able to free him.
According to the fire department, both patients were taken by LAFD paramedics to a local hospital with non-life-threatening injuries.
No Caltrans or construction personnel were injured.

Fatal Two-Vehicle Crash Statistics
Car accidents are the leading cause of injury in the United States. Every year, car accidents cause the deaths or injuries of two million people.
A car accident occurs somewhere in the United States every 60 seconds. The National Highway Traffic Safety Administration reports that there were over 3,300 fatalities due to automobile accidents in California in 2016.
According to the National Safety Council,11% of deaths are caused by automobile accidents. In 2019, 3,898 people lost their lives, and 276,823 were injured due to car accidents in the Golden State of California. The number of accidents on the roads has risen by 23.5 percent since 2013.
With 3.96 million residents as of 2019, Los Angeles is easily regarded as one of the most populated cities in the United States. Traffic in the city is getting worse, and nobody is surprised by this.
Los Angeles, despite the COVID pandemic, had a population of 7.8 million in 2020. The Los Angeles Police Department reports that there were 1,465 serious injuries and 289 fatalities due to traffic accidents in the year 2020.
Los Angeles County Car Accident Lawyers
When it comes to car accidents, Arash Law has been one of the leading law firms for many years. Compensation earned in cases can be used to pay for a loved one's funeral and any other related expenses, such as medical bills. Many people's lives have been devastated by car accidents that take the lives of innocent bystanders.
By taking legal action, you can seek justice for a family member's death. Those who have lost loved ones in fatal car accidents in Los Angeles can seek legal counsel from an attorney at Arash Law.
Our Los Angeles County car accident lawyers from Arash Law are prepared to advocate on your behalf and seek the financial compensation you are entitled to in the event of a car accident.
Please get in touch with us if you have any questions. Please contact us at (888) 488-1391 to schedule a free legal consultation with one of our experienced attorneys.