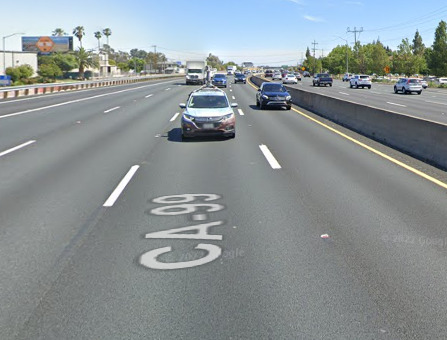 A man accused of leading Sacramento County deputies on a high-speed chase over the weekend ended dramatically after a crash into two homes near Calvine Road on Saturday, October 22, 2022.
The collision occurred just before 4:00 p.m. on Highway 99 near Calvine Road.
According to authorities, the deputies saw a vehicle that matched the description of a car they had been looking for.
A spokesperson for the office said deputies recognized the driver, noting they believed this individual had been involved in a pursuit earlier in the week and had at least one felony warrant.
The sheriff's office said a pursuit began, with speeds reaching 115 miles per hour, and the suspect hit two vehicles as he was exiting the freeway. The officials reported the chase ended when the driver crashed into two homes.
According to authorities, the suspect was taken into custody and taken to a local hospital. No other injuries were reported.
A spokesperson for the office said the suspect would be charged after being discharged from the hospital.
People who live nearby said that while rattled by the experience, they were physically fine.
Ring camera video captured the moment the truck hit one of the homes.

Reckless Driving Accident Statistics
A driver who is hostile or reckless puts the lives of others in danger. The risky driving habits of a few should not be allowed to put the safety of everyone else in danger.
Those who cause harm to others due to carelessness behind the wheel must bear the legal consequences. Reckless driving is a leading cause of traffic accidents, and the number of people hurt or killed in these incidents rises annually.
In the United States, about 90 people lose their lives out of every 6 million accidents. Nearly three million people are hurt yearly due to car accidents, and about two million of those injuries are considered permanent.
According to the National Highway Traffic Safety Administration, reckless driving is defined as an ongoing pattern of moving traffic violations that endanger the lives or property of others on the road.
Intoxicated or reckless driving contributes to more than a third of all traffic fatalities. Mistakes like these occur because of a lack of attention to detail.
Reckless driving habits like speeding, tailgating, and racing are as widespread as the act of driving itself. As common as driving is, so are reckless behaviors like speeding, tailgating, and racing. Every form of reckless driving, such as using a cell phone or drinking and driving, should be avoided.
Sacramento County Reckless Driving Accident Lawyers
Due to the lack of warning, car accident victims frequently experience physical pain and emotional burden. Potential costs like that of medical care and lost wages must also be considered.
Those who have suffered harm should seek compensation even as investigators continue their work.
In many cases, the driver's negligence is to blame for collisions on the road. Your attorney will use this as evidence to show that the other driver's carelessness led to the crash.
Our firm's reckless driving accident lawyers in Sacramento County at Arash Law have successfully recovered over $400 million in compensation on their clients' behalf when they have been injured as a result of another driver's reckless behavior. Your case will receive the same level of attention as our other clients' cases.
Please call (888) 488-1391 or submit a "Do I Have a Case?" form to schedule a free consultation with one of our skilled attorneys.