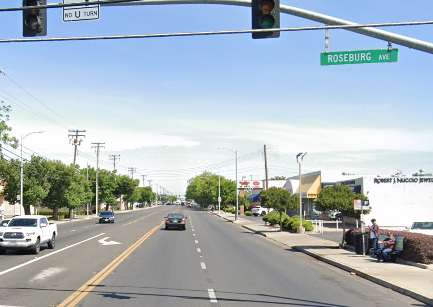 According to police, a 31-year-old Modesto man died after being struck by cars on McHenry Avenue on Sunday night, October 23, 2022.
According to Sharon Bear, a spokeswoman for the Modesto Police Department, the crash happened at 11:00 p.m. north of Roseburg Avenue.
She claimed that the man had been hit in the road, but she was unsure of which lane.
According to Bear, it appears that two vehicles struck him, and both drivers remained at the scene.
Alcohol and drugs don't seem to have played a role in the accident. The man was transported in an ambulance to a hospital, where he later passed away from his injuries.
The Stanislaus County Coroner's Office is withholding his name pending notification of his family.

Fatal Pedestrian Accident Statistics
A pedestrian almost always suffers serious or fatal injuries after being struck by a car. When a vehicle collides with a group of pedestrians, the vast majority of casualties are pedestrians.
The number of pedestrian fatalities and injuries in the United States has risen steadily, and the severity of these incidents has also grown in recent years. Recently, there has been a disturbing increase in the number of pedestrian fatalities.
According to a study by the Governors Highway Safety Association (GHSA), while overall traffic fatalities decreased by 14% between 2007 and 2016, the number of pedestrian fatalities increased by 27%.
There were 5,977 pedestrian fatalities in the United States in 2016. As of late 2016, it was estimated that 88 people were dying every minute.
In 2017, pedestrian injuries led to at least 137,000 visits to hospital emergency rooms.
When compared to other states, California has the highest rate of pedestrian deaths and serious injuries.
There were 893 pedestrians killed, and more than 14,000 were injured in California in 2012.
Pedestrian deaths and injuries are an unfortunate reality that arise when drivers ignore pedestrians or brake too suddenly. Your case will have a better chance of winning if you hire an attorney.
Stanislaus County Pedestrian Accident Lawyers
Each and every pedestrian, regardless of whether or not they are in a crosswalk, deserves the undivided attention of drivers. The right of way at a crosswalk belongs to pedestrians regardless of whether or not the crosswalk is marked. When an accident involves a pedestrian, the police will look into it to see if the driver did anything illegal.
A wrongful death lawsuit allows the victim's family to seek justice from those at fault for a family member's death. A judge may rule that a party be awarded monetary damages in various scenarios.
Our Stanislaus County pedestrian accident lawyers at Arash Law will aggressively pursue the compensation you are entitled to receive if you or a loved one has been injured.
Reducing the number of traffic accidents requires making reckless drivers pay for their mistakes.
Our firm is highly regarded when it comes to representing people who have been hurt in car accidents in California. Please contact us at (888) 488-1391 or use the contact form on our website to schedule a free case evaluation with our legal team.