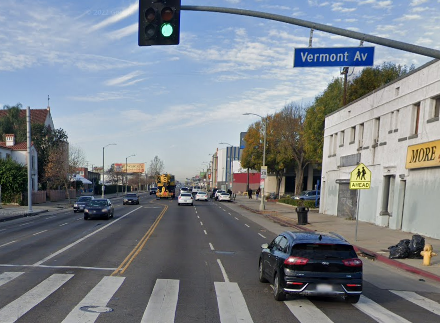 According to the Los Angeles Fire Department, an unidentified person was struck and killed by a vehicle near Algin Sutton Recreation Center in South Los Angeles Monday evening, October 24, 2022.
According to Brian Humphrey of the Los Angeles Fire Department, the collision was reported just after 8:55 p.m. in the area of 8539 S Vermont Avenue near Algin Sutton Recreation Center.
According to the Los Angeles Fire Department (LAFD), the individual was unable to escape from underneath the vehicle and was pronounced dead at the scene.
The identity of the pedestrian has been concealed pending notification of next of kin.
There were no other injuries that were reported, and an investigation was being conducted to determine what caused the collision.

Fatal Pedestrian Accident Statistics
The outcome of a car crash involving a pedestrian is almost always tragic. In the event of a collision between two vehicles, pedestrians without protection would likely sustain serious injuries.
Accidents involving pedestrians have been on the rise in the United States. Historically, pedestrians have been the most vulnerable to serious harm or death from automobile collisions.
While traffic fatalities decreased by 14% between 2007 and 2016, data from the Governors Highway Safety Association shows a 27% increase among young adults.
Five thousand nine hundred seven pedestrians lost their lives in the United States last year. According to the most up-to-date data, 88 people die in accidents every minute.
In 2017, 137,000 pedestrians were injured, resulting in ER visits. Studies reveal an all-time high in pedestrian injuries and fatalities in the Golden State.
Over 14,000 pedestrian accidents occurred in California last year, resulting in 893 fatalities. It is extremely difficult to save the lives of pedestrians involved in a car accident. Due to their lack of protection, pedestrians are at high risk for serious injury in the event of a collision between two vehicles.
The majority of pedestrian deaths and serious injuries occur because of careless or reckless driving. If you want a better shot at winning in court, you should hire an attorney.
Los Angeles County Pedestrian Accident Lawyers
Even if a crosswalk isn't strictly required, pedestrian safety should always take precedence. In the event of an accident, pedestrians will always be given the right of way. In the event of a police or judicial inquiry, the driver will be questioned.
Family members of the deceased can sue for wrongful death in order to obtain financial compensation for their loss. Depending on the circumstances, a court may award damages in the event of death or severe emotional distress.
In court, we always prioritize our clients' needs over our own. At Arash Law, our Los Angeles County pedestrian accident attorneys are ready to fight for our clients' rights after an accident, and we know how important it is for them to get the money they need and deserve.
To reduce traffic accidents, we must ensure that drivers are held accountable. To set up a no-cost consultation with one of our skilled lawyers, please call (888) 488-1391 or fill out our online intake form.