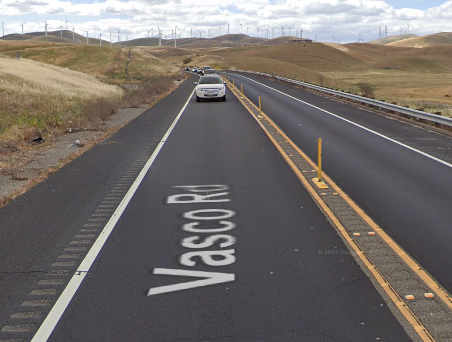 According to the California Highway Patrol, a driver is in critical condition following a head-on collision involving two-vehicles in unincorporated Brentwood Tuesday, October 25, 2022.
The head-on crash transpired at approximately 2:34 p.m. on Vasco Road near Marsh Creek Road in unincorporated Brentwood.
One person was flown to a nearby hospital in critical condition and another was taken by ground AMR to the hospital with moderate injuries after the collision.
Police officer Donnie Thomas reported that he had responded to a call about a utility truck that had been struck by a maroon Sudan as it traveled south on Vasco Road.
According to Thomas, "the maroon sedan was passing vehicles when the driver lost control and crossed the double yellow line, crashing head-on with a utility pickup, injuring both drivers."
In addition to the Contra Costa County Fire Protection District, the American Medical Response team, the California Highway Patrol, and a medical helicopter all rushed to the scene.
The collision is still under investigation.

Head-On Collision Statistics
It was predicted that the coronavirus pandemic would reduce the number of people on the road, but the National Highway Traffic Safety Administration estimates that 38,680 people died in car accidents in 2020, a 7.2% increase over the previous year.
A head-on collision occurred in this case. Head-on collisions occur when two or more vehicles collide head-on. When two automobiles collide, the impact is much more severe and potentially fatal.
Another common cause of serious injuries is head-on collisions. This is because the force of a head-on collision is maximized when both vehicles are in motion. If they don't die instantly from hitting their heads on the dashboard or windshield, victims often sustain permanent brain damage.
Less than two percent of accidents are head-on collisions, but they cause more than ten percent of traffic fatalities.
These accidents are caused by a number of factors, including intoxicated drivers, tired motorists, and faulty machinery.
Car Accident Attorneys in Brentwood
In the aftermath of a fatal car crash, the victim's loved ones often go through a difficult time mentally and emotionally.
If you or a loved one has been seriously hurt or killed in a car crash, you have the right to seek compensation from the driver who was at fault.
Wrongful death lawsuits are filed by the deceased's family members to seek compensation for their loss and the emotional and financial anguish that has resulted from the death of a loved one.
The deceased may have lost all future earnings between the time of the accident and the time they had planned to retire, in addition to the costs associated with their funeral and burial.
In the event that you or a loved one has been killed in a head-on collision, please do not hesitate to get in touch with our firm's lawyers. We aggressively defend our clients' legal rights because we care about their future happiness and prosperity.
Contact us at (888) 488-1391 or online to arrange a no-cost initial consultation. Hire a lawyer who specializes in auto accidents immediately. Over time, this will strengthen your position in court.