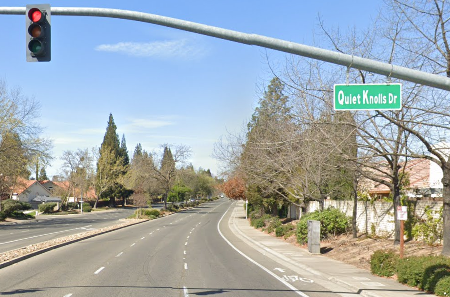 A passenger died, and the driver was severely injured after a single-vehicle collision in Antelope early Wednesday, October 26, 2022.
The collision occurred at around 2 a.m. at the west of Welga Road on Elverta Road and Quiet Knolls Lane.
According to officials, a car slammed into a tree, and the vehicle was moving quickly.
According to the CHP, the driver suffered severe injuries, and the passenger in the car passed away.
The CHP examines whether drugs or alcohol contributed to a role in the collision.
Authorities withheld other information about the scene of the crash.

Fatal Car Accident Statistics in Antelope
In California, many people die in single-vehicle collisions each year. The National Highway Traffic Safety Administration's statistics show that only one car is involved in about 62% of fatal car accidents in California.
Drivers in California must always be alert due to the numerous hazards.
A single-car accident may have a wide range of causes.
A runaway car or an off-road collision can result from careless driving on a slippery road, such as increasing speed or making a sharp turn. On the side of the road, a large branch or other truck cargo might have washed ashore. This might worsen traffic conditions.
To make matters worse, even if the other driver was at fault, your ability to recover damages might be severely constrained by your insurance policy's single-vehicle accident coverage plan.
Antelope Car Accident Lawyers in Sacramento County
Driving recklessly is prohibited regardless of whether or not other people are hurt or killed. If a negligent driver caused injuries or a relative's death, you might be able to sue their insurance company.
Being a witness in a deposition or trial requires you to relive past losses and hurts in front of a large audience, which can be emotionally taxing. The stress of litigation may negatively impact people's mental health.
After a car accident, you should immediately file a claim for damages against the reckless driver. Someone must be held accountable if their negligence causes several people to pass away. Although it can be therapeutic, bringing a lawsuit after a family member's wrongful death is not simple. Drivers in California will experience wide-ranging repercussions.
Our firm in San Diego County car accident lawyers has won more than $400 million in compensation for clients.
Our clients hail from major cities like San Diego, Los Angeles, Visalia, Bakersfield, Riverside, San Jose, Sacramento, and other parts of California. To arrange a free legal consultation with one of our skilled attorneys, please contact us at (888) 488-1391 or fill out our "Do I Have a Case?" form to speak with a legal staff member.