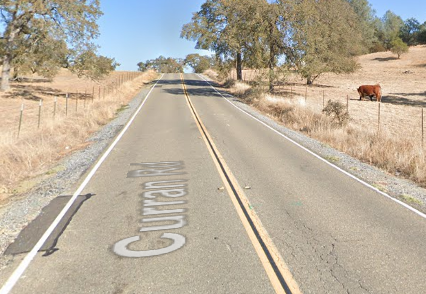 The California Highway Patrol stated that two people were injured in a DUI single-vehicle collision near Camanche Village on Sunday morning, October 30, 2022.
According to an accident report from the CHP's Amador office, officers were called to a crash at 1:00 a.m. on Curran Road west of Camanche Road.
Initial inquiry revealed that 46-year-old Geoffrey A. from Stockton was traveling on a 2008 Toyota Solara westbound on Camanche Road when he lost control of his car due to intoxication. The vehicle struck a vinyl fence after exiting Curran Road's north shoulder.
The collision resulted in minor injuries for two passengers in Allen's car. The driver then drove away from the scene.
The driver and his vehicle were located roughly 2 miles away after the officers investigated the evidence on the scene. Allen was later arrested for misdemeanor hit-and-run and Felony DUI.
No other information is released to the public at the moment, including the identities and conditions of the victims.
The authorities are conducting further investigation.

DUI Accident Statistics
Everyone on the road is seriously at risk when a drunk driver is present. As a result, there are strict laws against driving under the influence of alcohol or narcotics across the nation.
It has been proven that driving after drinking alcohol or taking drugs significantly increases the chance of an accident occurring.
The National Highway Traffic Safety Administration estimates that around 10,000 persons each year lose their lives in a vehicle accident caused by a drunk driver. Meanwhile, substance abuse is a factor in about 18% of all fatal auto accidents.
Each year, drunk driving crashes in California cause 30,000 injuries and about 2,000 fatalities. According to state law, there are several definitions of DWI and DUI that are age- and vehicle-specific.
For drivers who are intoxicated, vision, judgment, and response times are frequently troublesome. Drunk drivers pose a particularly substantial risk to the public's safety on California's most dangerous routes because of their faulty judgment and mental state.
DUI Accident Lawyers in Camanche Village
Accidents caused by drunk driving often happen in the United States. All this result in preventable injuries and fatalities. Immediately contact a lawyer if you or a loved one were hurt in a drunk driving accident.
Having a lawyer who specializes in cases involving drunk driving accidents can help make the experience of being a victim of such an accident less overwhelming.
All relevant police reports and prospective witnesses will be reviewed by your lawyer. A legal examination will also be conducted by the investigators to determine who may be held accountable.
The Arash Law injury attorneys founded by Arash Khorsandi, Esq. are aggressive advocates for our clients. Our law firm is here to help those who have been hurt get the most compensation for their cases so they can take care of themselves and their families. In fact, we have already recovered $500 million for our clients thus far.
Please contact our legal team if a drunk driver in California has injured you or someone you care about. To schedule a free consultation with one of our attorneys, please call (888) 488-1391 or click the "Do I Have a Case?" link on our website.