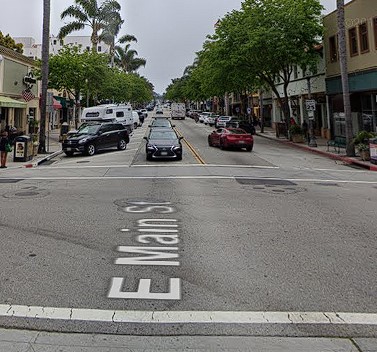 Several people were injured after a pursuit led to a fiery multi-vehicle crash in Ventura late Monday evening, November 6, 2023.
According to the Ventura County Police Department, the crash happened after 11:00 p.m. along Main Street.
The pursuit began in an area between Channel Drive and Lemon Grove Avenue and was canceled after the police lost sight of the vehicle between Valentine Road and Victoria Avenue, near Highway 101.
The vehicle was later found on Main Street, where it hit a Gold Coast ambulance, which struck a large dump truck. Both the vehicle and the ambulance caught fire.
All occupants of the vehicles involved sustained unknown injuries and were transported to different hospitals. Reports indicate that all victims were in stable condition.
The reckless driver was identified as Ron B., a resident of Ventura, who sustained serious injuries. He is under investigation for possible felony charges of evading an officer, driving under the influence, and assault with a deadly weapon against an officer.
Reputable Reckless Driving Accident Lawyers in Ventura, CA
You or your loved one might be compensated if another driver's negligence wrongfully killed or injured them. Fight for your rights and seek justice with the help of an accident attorney in Ventura.
During our free consultation, one of our experienced attorneys will review your case, discuss the next steps, and examine all the variables that could affect the settlement amount.
Seek the advice of our reputable Ventura reckless driving accident lawyers at Arash Law, founded by the famous attorney Arash Khorsandi, Esq., who have years of experience advocating for accident victims, resulting in a total of $500 Million in compensation.
To schedule a free consultation with one of our attorneys, please call (888) 488-1391 or submit the "Do I Have a Case?" form.


What Should You Do in Case of a Car Accident?
Since car accidents are unexpected, it can be confusing to know exactly what to do after being involved in one. First, you should check on all passengers, drivers, and pedestrians involved. If they need medical help, call for an ambulance immediately. Make sure that you don't move anyone who is unconscious or reports back or neck pain unless their life is in imminent danger, for example, from a fire or oncoming traffic. You also need to do the following:
Call the police to report any deaths, injuries, or substantial property damage. Get the names and badge numbers of officers who are at the scene of the accident. Later, you need to call the police department and request the accident report.
Take pictures of all parties involved, including their driver's licenses and insurance cards.
Take pictures of all vehicles involved, including their license plates, any visible damages, and points of rest of the automobiles.
Take pictures of street names, traffic lights, and signs.
Take pictures of all skid marks.
Take pictures of witnesses and obtain their phone numbers and addresses.
Preserve evidence by taking pictures of your injuries.
Seek medical attention, even if you feel like your injuries are minor.
Call a California reckless driving accident attorney from our firm for a free case review.
You should also get the names, drivers' license numbers, telephone, and addresses of anyone involved. Get their license plates and insurance information. Be sure to get passengers' names, addresses, and phone numbers. If there are any eyewitnesses, have them jot down their version of what happened and their contact information.
Reckless Driving Accident Statistics
Automobile crashes are the leading cause of unintentional deaths and injuries in the US. Every year, car accidents claim the lives of two million people and injure ten million more.
The National Highway Traffic Safety Administration defines reckless driving as "willful disregard" for the safety of other road users. The NHTSA also recorded 11,258 fatalities caused by speeding in 2020.
The AAA estimated that between 2003 and 2007, 56% of all traffic accidents were caused by reckless driving.
In Ventura, 542 victims were either injured or killed because of crashes, based on California Office of Traffic Safety data.