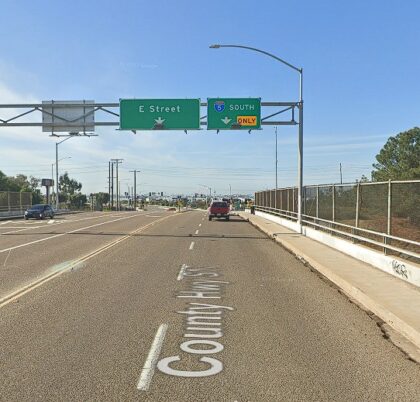 At least one person was killed following a reckless multi-vehicle crash in Chula Vista early Saturday morning, November 11, 2023.
According to the California Highway Patrol, the fatal crash happened around 3:02 a.m. along the northbound lane of Interstate 5 at E Street.
A black SUV driver was reportedly speeding along I-5 when it collided with multiple vehicles on the right shoulder before overturning repeatedly.
One victim was declared dead at the scene, while a pole with an electrical box was found knocked down.
The authorities have not yet released any information about the identity of the victim or the number of vehicles and people involved.
Notable Reckless Driving Accident Lawyers in Chula Vista, San Diego County
You or your loved one might be compensated if another driver's negligence caused injuries or death to you and your family. Fight for your rights and seek justice with the help of an accident attorney in Chula Vista.
During our free consultation, one of our experienced attorneys will review your case, discuss the next steps, and examine all the variables that could affect the settlement amount.
Seek the advice of our notable Chula Vista reckless driving accident lawyers at Arash Law, led by Arash Khorsandi, Esq., who have years of experience advocating for accident victims, resulting in a total of $500 Million in compensation.
To schedule a free consultation with one of our attorneys, please call (888) 488-1391 or submit the "Do I Have a Case?" form.


What Should You Do in Case of a Car Accident?
Since car accidents are unexpected, it can be confusing to know exactly what to do after being involved in one. First, you should check on all passengers, drivers, and pedestrians involved. If they need medical help, call for an ambulance immediately. Make sure that you don't move anyone who is unconscious or reports back or neck pain unless their life is in imminent danger, for example, from a fire or oncoming traffic. You also need to do the following:
Call the police to report any deaths, injuries, or substantial property damage. Get the names and badge numbers of the officers who are at the scene of the accident. Later, you need to call the police department and request the accident report.
Take pictures of all parties involved, including their driver's licenses and insurance cards.
Take pictures of all vehicles involved, including their license plates, any visible damages, and points of rest of the automobiles.
Take pictures of street names, traffic lights, and signs.
Take pictures of all skid marks.
Take pictures of witnesses and obtain their phone numbers and addresses.
Preserve evidence by taking pictures of your injuries.
Seek medical attention, even if you feel like your injuries are minor.
Call a California reckless driving accident lawyer from our firm for a free case review.
You should also get the names, drivers' license numbers, telephone, and addresses of anyone involved. Get their license plates and insurance information. Be sure to get passengers' names, addresses, and phone numbers. If there are any eyewitnesses, have them jot down their version of what happened and their contact information.
Fatal Reckless Driving Accident Statistics
Automobile crashes are the leading cause of unintentional deaths and injuries in the US. Every year, car accidents claim the lives of two million people and injure ten million more.
The National Highway Traffic Safety Administration defines reckless driving as "willful disregard" for the safety of other road users. The NHTSA also recorded 11,258 fatalities caused by speeding in 2020.
The AAA estimated that between 2003 and 2007, 56% of all traffic accidents were caused by reckless driving.
In Chula Vista, 776 victims were either injured or killed because of crashes, based on California Office of Traffic Safety data.