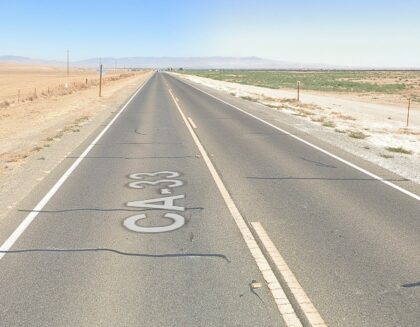 At least one person was severely injured after a semi-truck vs. vehicle collision near Spicer City, Kern County, on Tuesday afternoon, November 14, 2023.
According to the California Highway Patrol, the head-on collision occurred around 5:43 p.m. on Highway 33 near Lerdo Highway.
Reports say the crash involved a white Toyota and a semi-truck, leaving one unidentified person dead. The victim's current condition is unknown, and it is unclear which vehicle the victim was an occupant of.
No other visible injuries were reported. Further details about the crash and the identity of the victim were not immediately available as investigations continued.
Reliable Truck Accident Lawyers in Kern County
It can be difficult to navigate the legal process if you have been injured or lost a loved one in a truck collision. An experienced lawyer who is familiar with such cases can be helpful to victims of these collisions.
For a complimentary and no-obligation consultation with one of our attorneys regarding the details of your case, you can contact our legal team. We do not simply provide guidance on how to proceed but also consider all factors that may affect the outcome of your case.
Get the professional legal assistance you need from our experienced Kern County truck accident lawyers at Arash Law, led by Arash Khorsandi, Esq., if you need assistance with your insurance claim or legal representation in court. Our firm has recovered more than $500 Million in settlements and verdicts for our California clients.
Set up a free consultation with one of our reputable attorneys by calling (888) 488-1391 or filling out our "Do I Have a Case?" form.


What to Do After A Truck Accident in California
After a truck accident, it is essential to remain on the scene and wait for the authorities and medical personnel to arrive. Move the vehicle off the road if possible. Then, after gathering evidence to support filing a truck accident claim, make sure to inform your insurance provider and contact one of our award-winning California truck accident lawyers or car accident lawyers.
Do not leave the scene and call the police right away.
The police's duties at the scene of an accident include directing traffic, clearing the scene of debris, and assisting any injured parties. As a neutral party, their investigation reports add credibility to your case and will prove negligence.
The California Vehicle Code also requires drivers to report accidents involving death or injury within 24 hours. Don't admit fault or guilt, but cooperate fully with law enforcement. Lastly, stay at the scene until instructed otherwise to avoid legal repercussions.
Contact emergency responders and immediately seek medical attention.
Even if you think you were uninjured after a truck accident, let the emergency personnel examine you. You may be unable to assess the full extent of your injuries due to the adrenaline rush and shock. Some injuries may even appear days later. Only a medical examination can detect health issues before they become noticeable.
Records of medical visits, diagnosis, treatment, medications, and related expenses are valuable for building a strong case. Insurance companies and courts could assume the victims weren't really harmed if they didn't seek medical attention. This leads to inadequate compensation. So make sure you keep all of them.
Move vehicles to the shoulder of the road if possible.
Truck accidents almost always cause obstructions on the road, leading to traffic congestion. If possible and safe, preferably after documenting the scene by taking pictures and videos, move your vehicle to the shoulder and turn on your hazard lights to alert other motorists. Further accidents can be prevented with this.
In some cases, including severe damages, injuries, or when instructed otherwise by law enforcement, moving the vehicles may not be possible or safe. Follow the instructions of emergency responders in these situations.
Talk to our truck accident lawyers in California.
We offer free consultations so you can discuss your truck crash without risk or obligation. We can determine whether your case has merit, help you talk to insurance companies, and assist you in filing a personal injury claim if necessary.
Big Rig Accident Statistics
There is a higher chance of suffering severe injuries or even death in a collision with a large truck or big rig when a person drives a small vehicle, mainly because smaller vehicles are less likely to be able to withstand the impact of the collision that happens.
According to the National Highway Traffic Safety Administration, heavy vehicles caused 4,965 fatalities in 2020. The number of fatalities dropped by 5% for the following year, despite reaching a record of 5,032 in 2019.
According to the 2020 crash ranking of the California Office of Traffic and Safety, Kern County had 5,391 fatalities and injuries in different collisions. The city should prioritize safe driving, considering the average population of 907,324 in the same year.