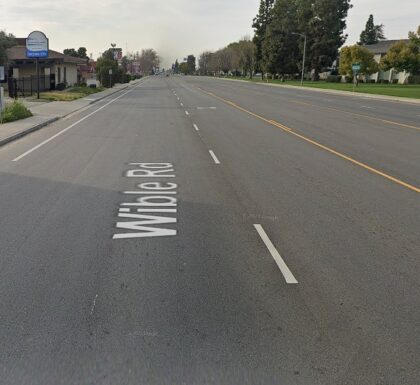 A male bicyclist was killed following a bicycle vs. vehicle collision in southwest Bakersfield on Tuesday afternoon, November 14, 2023.
According to the Bakersfield Police Department, the collision occurred at approximately 2:59 p.m. in the 3300 block of Wible Road.
The victim was found severely injured on the road after being struck by a sedan. He was taken to a local hospital but was later pronounced dead.
An adult female driver of the sedan remained at the scene and cooperated with the authorities. Speed and intoxication did not reportedly play a role in the crash.
As investigations continue, authorities will identify the victim at a later date. Further details about the crash are not available at this time.
Experienced Bicycle Accident Lawyers in Bakersfield, Kern County
Injuries caused by bicycle accidents can be compensated by law, and our legal representation can offer you a great deal of assistance. It may be possible for a victim or their family to file an insurance claim or a personal injury lawsuit in order to recover financial compensation for the pain and suffering suffered by the victim.
As part of your complimentary consultation, a dedicated team of lawyers will assess your case in order to determine what action is appropriate. We will assist you with the necessary formalities once we receive any additional information affecting the settlement offer.
Obtain professional legal advice from our Kern County bicycle accident lawyers at Arash Law, under Arash Khorsandi, Esq.'s direction, either by helping you with your insurance claim or representing you in court. We have recovered more than $500 Million for clients and are widely acknowledged for our success and reputation as one of California's leading personal injury law firms.
If you want to speak with one of our lawyers, please call (888) 488-1391 or fill out the "Do I Have a Case?" form.


What To Do After a Bicycle Accident
If you ride a bicycle and get hit by a car, you must ensure you are safe. Understanding the best ways to protect your health and legal rights is also crucial, whether you want to be ready in case a vehicle incident occurs in the future or if you've already had one and need more advice. By taking the following actions, you can ensure you receive the payment you are entitled to:
Move to Safety: Getting into a crash while riding a bicycle can leave you feeling shaken and disoriented. Immediately move to a safe location if possible. By relocating to the side of the road, you can help prevent further accidents.
Get Immediate Medical Attention: Your adrenaline rush might initially mask the pain from your injuries. To prevent further complications, a quick body assessment is crucial to identify any bleeding, fractures, sprains, lacerations, or bruised limbs and joints. This will also help you communicate with emergency personnel when they inquire about your condition.
Contact the Authorities: Inform the California Highway Patrol or the police department where the collision occurred.
Document the Events Leading to the Accident: Capture every angle of the accident scene and jot down the details of the incident. Cover the "who, what, where, when, and how" aspects.
If the vehicle responsible for the accident is nearby, ensure you record its license plate number. Identify the driver if possible. Police reports, legal representation, and insurance company discussions will benefit from this data.
Identify All Witnesses: Keep a mental note of your location and whether there were any witnesses. If people came to your aid or were in the area, engage them in conversation. Ask about what they observed, get their names and contact details, and consent to be contacted for further assistance. It can be helpful for law enforcement, legal matters, or insurance interactions.
Call Our Bicycle Accident Law Firm at (888) 488-1391: Speak to our bicycle accident lawyers or car accident lawyers in California to discuss your incident without risk or obligation. We can determine whether your case has merit, help you talk to insurance companies, and assist you in filing a personal injury claim if necessary.
Fatal Bicycle Accident Statistics
There were 932 motor vehicle incidents in 2020 that resulted in the death of bikers, according to the National Highway Traffic Safety Administration. There was an increase of 9% in the number of cycling deaths in 2019 compared to the previous year.
It has been reported that highway fatalities and serious injuries have increased since 2010. Pedestrian and bicycle traffic fatalities and serious injuries have increased significantly in recent years, with pedestrian deaths increasing by over 50% and bicycle deaths increasing by over 60%.
There has been an increase of 35% in the number of serious injuries and fatalities caused by intoxicated driving. The Office of Traffic Safety (OTS) develops education and prevention programs for road safety. The OTS allocated 93.7 million dollars for 415 traffic safety grants in 2021, designed to improve the infrastructure for bicycles and pedestrians.