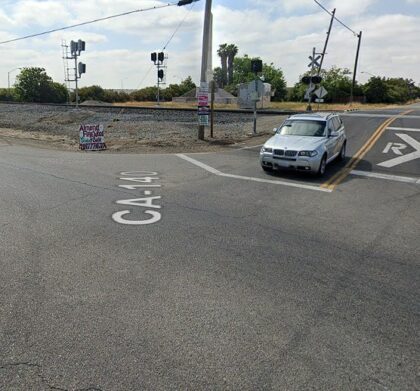 A 32-year-old man died, and two individuals were injured after a crash involving a car and semi-truck in Merced County on Tuesday evening, November 14, 2023.
According to the California Highway Patrol, the incident occurred around 7:30 p.m. on Highway 140, east of Lincoln Boulevard.
A man from Atwater, driving a 2008 Volkswagen Golf at an unknown high rate of speed, caused a collision. The vehicle veered to the left and directly into the path of the 2016 semi-truck driven by a 69-year-old man from Hilmar.
The Volkswagen driver reportedly died, while a 23-year-old front-seat passenger from Atwater suffered severe injuries and was taken to a nearby hospital.
The semi-truck driver declined medical treatment for his pain and agreed to cooperate with the investigating officers. He was not found to be under the influence of drugs or alcohol.
There is still no indication if the Volkswagen driver was under the influence when the crash occurred; the cause of the crash is still being investigated.
Our Dedicated Truck Accident Lawyers in Merced County
Victims of truck accidents or any personal injury accidents in California can pursue monetary compensation through a civil court appeal. Contact our law firm for a complimentary case review if you or a family member has been injured in a truck collision.
Seek legal advice from our Merced truck accident lawyers, who will examine various factors during the free consultation to determine how they may impact the final settlement amount.
Our team of prestigious Merced truck accident lawyers at Arash Law is led by Attorney Arash Khorsandi, who has the skills and reputation to represent accident victims. We have successfully recovered more than $500 Million on behalf of our clients.
Call (888) 488-1391 or fill out our "Do I Have a Case?" form to schedule a free consultation with one of our reliable lawyers.


What to Do if You Are Injured in A California Truck Accident
In the event of a truck accident, there are specific steps you need to take to protect your legal rights and ensure you receive compensation:
Seek medical attention right away – You should seek medical attention as soon as possible. Truck accidents often cause devastating injuries, which means you may need urgent and extensive medical attention. Seeking medical attention right away also contributes to the preservation of evidence.
Call the police to report your truck accident – You should contact the police and report your accident. Depending on whether the driver of the truck was intoxicated, the responding police officer may arrest them and file charges. The police report is essential evidence in your truck accident case to help you win.
Get witnesses' contact information – Your legal claim can be significantly strengthened if you have witnesses who witnessed the accident. Ensure you collect the contact information of all witnesses who witnessed your truck accident.
Take photos at the scene – Most police officers take photos of the scene upon arrival. However, it is still a good idea to take photos yourself, too. The skid marks, traffic signs, road conditions, and other relevant details should all be photographed from multiple angles.
You should avoid admitting fault – You should be careful about what you say to the other people involved in the crash. Do not speculate or admit fault in any way.
Notify your insurance company – Please notify your insurer of the accident to ensure your claim is not denied.
Call a  truck accident lawyer in California – A skilled truck accident lawyer in Merced County can help you determine liability, discuss your options, and pursue compensation.
Fatal Truck Accident Statistics
Accidents involving large vehicles, especially those involving semi-trucks, often result in fatalities for pedestrians. They are more likely to suffer severe injuries in collisions than truck drivers and passengers.
As reported by the National Highway Traffic Safety Administration (NHTSA), 4,965 people died in truck-related accidents in the US in 2020. The number of fatalities in 2019 was 5,032. 2020 saw a decrease of 5% in the total number. Trucks are to blame for 71% of fatal car accidents in the US.
As of 2020, large trucks accounted for 8.9% of fatal collisions in the US. In 2015, truck-car collisions killed at least 90 people in California. Texas and Florida recorded 50 truck-related deaths each.