A deadly car crash near Old Highway 49 results in one death and injures another person on early Wednesday morning, November 17, 2021.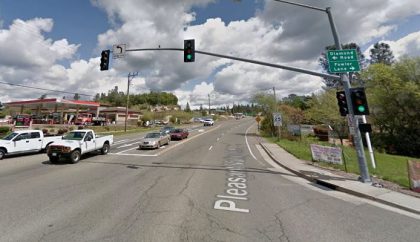 The fatal collision took place on Highway 49, near Drytown, just north of Old Highway 49, at approximately 5:00 a.m.
A northbound 2015 Toyota Corolla was traveling on Highway 49 at 40-50 mph when the Toyota suddenly collided head-on with an oncoming southbound Honda Insight.
The Honda Insight was driving at high speeds at the time of the accident. It's unclear why the Honda Insight was traveling in the opposing lanes.
The Toyota driver applied her brakes, but unfortunately, she was unable to avoid the Honda. The Honda then began spinning out of control on the roadway following the crash before hitting a tree.
Due to the severity of the impact, the Honda driver was ejected from his vehicle. He was pronounced dead at the scene. The identity of the Honda driver has not been disclosed.
Meanwhile, the Toyota driver sustained minor injuries in the accident. She was identified as 28-year-old Jeanne R.
Information about the crash is limited at the moment. The accident is currently under further investigation.

Deadly Car Crash Statistics
Every sixty seconds, a car accident occurs somewhere in the United States. There are millions of vehicles on the roads of the United States every day.
As more and more people drive on the same roads, congestion, gridlock, and (most importantly) car accidents – both fatal and severe – are inevitable.
In recent years, the number of people killed or injured in car accidents in the United States has risen drastically. According to the National Safety Council (NSC), thirty-eight thousand people were killed in car accidents in the United States in 2019.
According to the California Office of Traffic Safety (OTS), 3,563 people lost their lives in car accidents across the state in just 2018 alone. In the wake of California's fatal accidents, thousands of people must deal with grief and sudden loss.
The consequences of a car accident can be devastating and life-altering. It's easy to forget how dangerous cars can be because they're so commonplace in our daily lives, but they can be deadly.
Car Crash Accident Lawyers for Victims in Amador County
Following a fatal car accident, the victim's family may be overwhelmed with emotion and trauma. As a result of the collision, the victim's family may develop PTSD in some cases.
Victims of auto accidents may be entitled to compensation for emotional distress. Regardless of the severity of physical injuries sustained in a car accident, many people will experience one or more psychological issues resulting from the event.
It can be extremely difficult to deal with the loss of a loved one in a fatal car accident. It will take time to recover from the unexpected loss, and there are no quick fixes, but you can learn to cope and rebuild your life with the assistance of an experienced fatal car accident attorney.
A wrongful death car accident lawsuit can also help pay for the high medical bills and other costs incurred due to the crash. It can also provide financial support to those who have lost income due to an injury or an untimely death. Legal action may also help to prevent a similar tragedy from happening to other families.
Our compassionate and experienced Amador County fatal car crash attorneys from Arash Law are here to assist you following the death of a loved one in a car accident. Arash Law has recovered more than $500 million for previous clients just like you. We have offices in San Francisco, Riverside, San Jose, San Diego, Sacramento, Sherman Oaks, and many other California cities. In addition, we provide legal services in a variety of languages.
Call Arash Law today at (888) 488-1391 or contact us online to schedule your free, no-obligation fatal car accident case review.