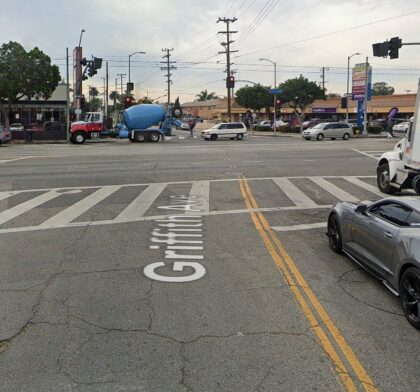 Two people were hospitalized after a tow truck vs. multi-vehicle collision in Los Angeles early Friday morning, November 17, 2023.
According to the Los Angeles Police Department, the collision occurred around 2:40 a.m. near Washington Boulevard and Griffith Avenue, just south of Freeway 10.
Reports indicate a tow truck collided with a red Prius and a silver Prius, resulting in the truck striking eight parked vehicles.
The truck was driving northbound on the avenue when it collided with a red Prius caused by an overturn. The direction of the silver vehicle was unclear, but authorities suspect it headed east or west.
The truck hit several parked vehicles, resulting in the drivers of the truck and the silver Prius being taken to the hospital. Their conditions are unknown at this time, and no other visible injuries were reported.
Footage shows the truck overturning and landing on its side after plowing through parked cars. An area power line was also knocked down while the truck was mangled in the street.
It is unclear whether speed or alcohol contributed to the crash. Investigations are ongoing, so details about the collision are not yet available.
Experienced Truck Accident Lawyers in Los Angeles, CA
There can be serious physical, emotional, and financial repercussions following a truck accident. You must obtain legal representation in such situations to protect your rights and receive the maximum compensation possible.
Contact one of our truck accident lawyers for an initial consultation. Our seasoned legal team has provided professional assistance to truck accident victims for decades with great success, and we are confident of your success as well. We can assist you in obtaining the compensation that you deserve.
Get the reliable legal help you need from our leading Los Angeles truck accident lawyers at Arash Law, under Arash Khorsandi, Esq.'s direction, to help you with your insurance claim or effectively represent you in court proceedings.
Our firm has recovered over $500 Million for clients and is widely acknowledged for its success and credibility as one of California's most recognized personal injury law firms.
If you want to speak with one of our lawyers, please call (888) 488-1391 or fill out the "Do I Have a Case?" form.


What to Do After A Truck Accident
After a truck accident, it is essential to remain on the scene and wait for the authorities and medical personnel to arrive. Move the vehicle off the road if possible. Then, after gathering evidence to support filing a truck accident claim, make sure to inform your insurance provider and contact one of our award-winning California truck accident lawyers or car accident lawyers.
Do not leave the scene and call the police right away. The police's duties at the scene of an accident include directing traffic, clearing the scene of debris, and assisting any injured parties. As a neutral party, their investigation reports add credibility to your case and will prove negligence.The California Vehicle Code also requires drivers to report accidents involving death or injury within 24 hours. Don't admit fault or guilt, but cooperate fully with law enforcement. Lastly, stay at the scene until instructed otherwise to avoid legal repercussions.
Contact emergency responders and immediately seek medical attention. Even if you think you were uninjured after a truck accident, let the emergency personnel examine you. You may be unable to assess the full extent of your injuries due to adrenaline rush and shock. Some injuries may even appear days later. Only a medical examination can detect health issues before they become noticeable.Records of medical visits, diagnosis, treatment, medications, and related expenses are valuable for building a strong case. Insurance companies and courts could assume the victims weren't really harmed if they didn't seek medical attention. This leads to inadequate compensation. So make sure you keep all of them.
Move vehicles to the shoulder of the road if possible. Truck accidents almost always cause obstructions on the road, leading to traffic congestion. If possible and safe, after documenting the scene by taking pictures and videos, move your vehicle to the shoulder and turn on your hazard lights to alert other motorists. Further accidents can be prevented with this.Moving the vehicles may not be possible or safe in some cases if there are severe damages and injuries or when instructed otherwise by law enforcement. Follow the instructions of emergency responders in these situations.
At this point, you may not be considering filing a truck accident claim, as ensuring your safety and that of others is paramount. Still, it is vital to know the steps involved in filing a claim and to go through with it as soon as possible.
Truck Accident Statistics
A total of 4,714 fatalities were attributed to large truck accidents in 2021, which represents an increase of 17% from the previous year. Truck occupants accounted for 16% of these deaths, cars and other passenger vehicles accounted for 68%, and pedestrians, cyclists, and motorcyclists made up 15%.
According to the Insurance Institute for Highway Safety, the number of people who died in large truck crashes was 50% higher in 2021 than in 2009. The number of truck occupants who died was 68% higher than in 2009.
As with any accident, truck accidents can have many causes, such as a loss of control, tire blowouts, speeding, drifting out of lanes, sloppy maneuvering, or a driver who is tired or exhausted.