One unidentified person was killed after a deadly traffic accident involving a semi-truck in Santa Clarita on Tuesday, November 23, 2021.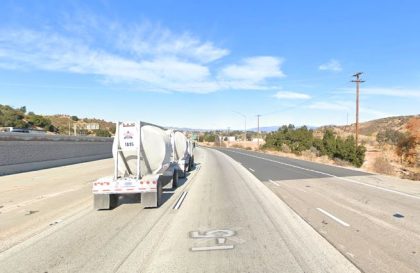 The fatal crash happened at around 6:00 p.m. on the northbound side of the freeway at Gavin Cyn on 5 Freeway in Santa Clarita.
A sports utility vehicle and a semi-truck were involved in the collision. How the accident occurred, and the reason it happened has not been established.
One person in the SUV sustained serious injuries in the accident and was rushed to an area hospital for treatment. Unfortunately, the injured party later succumbed to their injuries and was pronounced dead.
No other injuries were reported. The identities of the involved parties have not been disclosed.
The California Highway Patrol is further investigating the cause of the crash. No arrests have been made at the moment.

Semi-Truck Accident Statistics
Semi-trucks are also known as big rigs, 18-wheelers, and tractor-trailers. They are enormous commercial trucks that play an important part in our economy. After all, these vehicles are in charge of moving products.
Semi-truck accidents are more fatal than other types of traffic accidents. It is mainly the case because of the substantial size disparity between big rig trucks and other cars on the road.
According to the Fatality Analysis Reporting System of the United States Department of Transportation, the fatality rate of large rig vehicles has increased by 30% since 2009. (FARS). In 2017, there were a total of 4,102 truck-related fatalities.
Semi-truck accidents are typically caused by various circumstances, including loss of truck control, a flat tire, a defective or non-disabled vehicle malfunction, excessive speed, lane drifting, and truck maneuvering.
Los Angeles Accident Lawyers for Victims of Semi-Truck Crashes
It is natural to feel confused and overwhelmed following a major traffic accident. You've gone through a horrible ordeal. You may be unsure what to do next or who can assist you with the insurance claims procedure.
Hiring a Los Angeles accident lawyer from Arash Law will guarantee that your claim is filed properly and on time. You will have someone fighting for your legal right to be compensated for your injuries and losses.
Furthermore, you will hold the negligent motorist accountable for their dangerous driving habit, discouraging other drivers from driving recklessly in the future.
Holding dangerous drivers to account can save lives. Whether you need a car accident lawyer, a truck accident lawyer, a slip and fall accident lawyer, or any other type of motor vehicle accident lawyer, Arash Law can defend your right to be compensated for injuries and losses.
There are many ways that a person can be injured in an accident. If this happens, you have legal rights that must be protected. It is not just your legal rights that are at stake. You make Los Angeles safer for everyone by holding negligent drivers and companies accountable for their dangerous actions. Call (888) 488-1391 for a FREE Consultation with a wrongful death attorney in California.