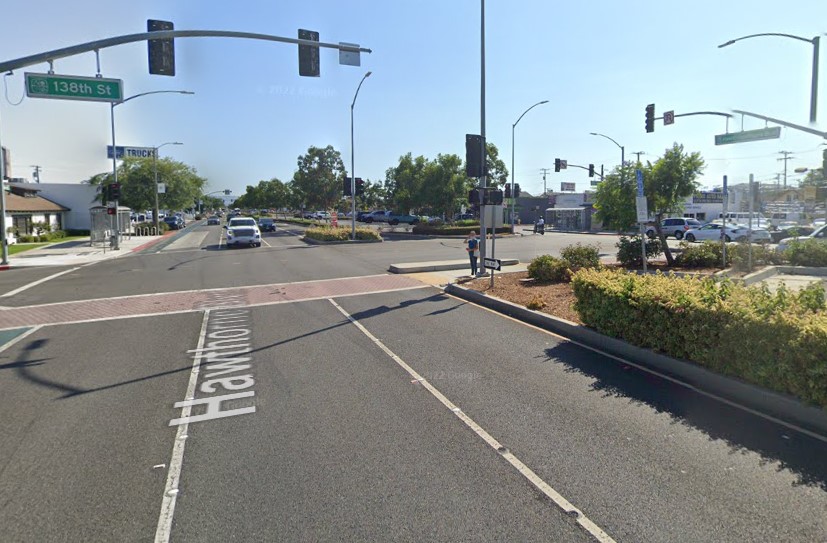 Authorities reported that at least one person was injured following a multi-vehicle collision in Hawthorne on Christmas eve, Saturday evening, December 24, 2022.
According to the Hawthorne Police Department, the three-vehicle crash, which also involved a building and power lines, occurred shortly before 11:00 p.m. at the West 138th Street and South Hawthorne Boulevard intersection.
Responders from the Los Angeles County Fire Department arrived to discover two cars were trapped beneath high-voltage power lines, and another had driven through the South Bay Ford Truck Center storefront.
The driver of the car that crashed into the building was transported by the firefighters to a nearby hospital. The number of people involved and the extent of the injuries is currently unclear.
SoCal Edison and the Los Angeles Department of Building and Safety were called to the scene to offer extra assistance while the Hawthorne police were looking into the cause of the collision.

Multi-Vehicle Accident Statistics
The National Highway Traffic Safety Administration receives reports of a car accident once per minute. Over 3,000 people have lost their lives in car accidents in California, and in 94% of those incidents, human error was a contributing factor.
The National Safety Council reports that over 110,000 people are killed annually in the United States due to traffic-related events. In California alone, 3,898 people perished and 2,710,000 were injured due to these disasters.
There has been an average 23.5% annual increase in mortality rates since 2013, with the trend expected to continue.
A "multi-vehicle collision" refers to an incident involving three or more vehicles. According to statistics compiled by the National Highway Traffic Safety Administration, about 13,000 persons were killed in incidents involving two or more cars in 2010.
Car Accident Lawyers in Hawthorne
Surviving family members in California have the same rights as those affected by any other unintentional death or injury if their loved one was killed or wounded in a car accident.
Get in touch with a lawyer from our reputable firm if you or a loved one has been hurt and you are considering filing a personal injury or wrongful death claim.
Getting in touch with us for a free consultation with one of our lawyers is the first step if you want to increase your odds of winning.
Our trusted car accident lawyers in Hawthorne have extensive experience and distinctions advocating for accident victims. Our clients have been awarded compensation totaling $400 million so far.
Contact (888) 488-1391 or click the "Do I Have a Case?" on our website to schedule a free consultation with one of our lawyers.