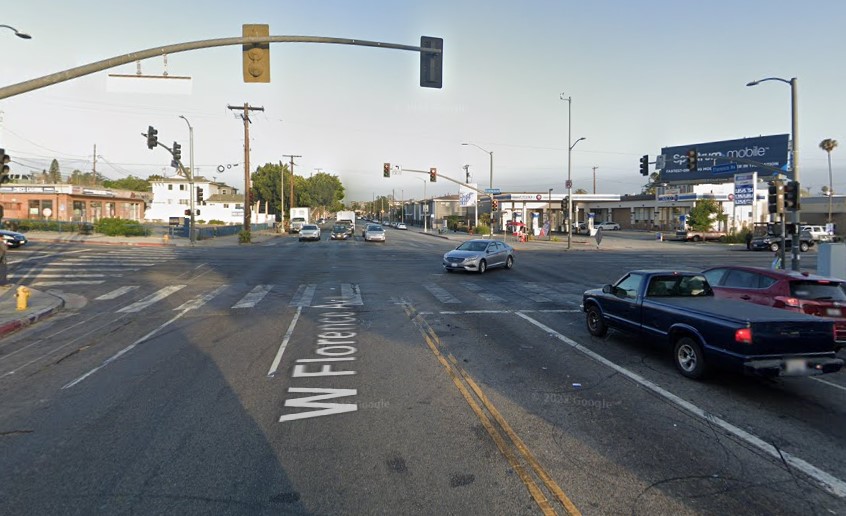 Police are searching for a hit-and-run driver who struck and killed a pedestrian in the Hyde Park neighborhood, Los Angeles, on Sunday night, December 25, 2022.
The fatal collision reportedly transpired around 9:00 p.m. near Crenshaw Boulevard and West Florence Avenue intersection.
Authorities received a call that more than 100 automobiles were involved in a street takeover, which included exploding fireworks and burning Christmas trees.
A 24-year-old Hispanic woman, Elyzza G., was allegedly injured by one of the automobiles while it was doing doughnuts in the intersection.
According to police, the vehicle drove off the road and collided with a crowd of onlookers.
According to authorities, the victim was brought to a hospital and later confirmed dead. Several other bystanders were hurt as well.
As a result of the fatal crash, the car involved was immobile, causing the driver to flee the scene and abandon the vehicle.
The hit-and-run driver wanted by police was not described by police officials.
At a nearby gas station, employees have yet to determine if surveillance video captured the street takeover and fatal collision.
The pedestrian's loved ones have set up a GoFundMe page.
Anyone with information leading to the arrest of the person responsible for the victim's death may be eligible for a $50,000 reward.

Fatal Hit-And-Run Collision Statistics
A new study indicates that hit-and-run accidents have increased in recent years. Hit-and-run accidents killed 24% of all pedestrians in 2020.
Recent surveys reveal that California has the most significant rate of pedestrian fatalities when compared to other states. In 2012, there were over 14,000 pedestrian injuries and 893 pedestrian deaths in California.
A hit-and-run collision happens when two vehicles collide, and a fleeing car does not stop to help the injured victim. Besides the anguish and suffering caused by auto accidents, hit-and-run crashes can have severe effects if victims do not seek quick medical assistance.
The main reason pedestrians are killed and injured is failure to yield to pedestrians or sudden braking.
To reduce their risk of danger, pedestrians should walk on sidewalks whenever they can and avoid drugs and alcohol. They should also pay attention when crossing parking lots or driving.
Hit-And-Run Accident Lawyers in Los Angeles
After the death of a loved one, one's perspective on life gradually shifts. Other companies, such as insurance firms, may also reach you. It is advisable to speak to an attorney before initiating any legal action. Before submitting any protest, it is advisable to seek legal advice.
During this time, surviving relatives must file a wrongful death lawsuit. Family members can sue for monetary compensation, emotional pain, and mental suffering when a loved one dies unexpectedly.
If you or a loved one has been wounded in a hit-and-run accident, our Los Angeles hit-and-run accident lawyers will fight for the compensation you need and deserve. Our legal team has years of experience and can help you with these legal matters. Clients can focus on improving their health or mourning their losses without distraction.
For a free consultation with our legal professionals, contact us at (888) 488-1391 or use the website's "Do I Have A Case?" link.