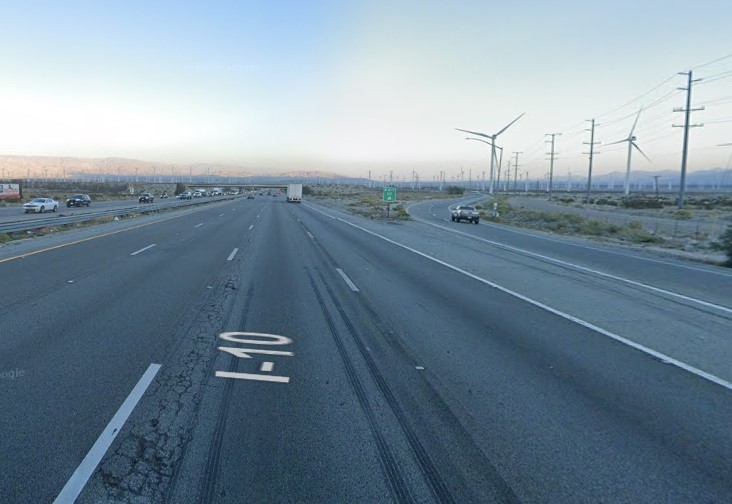 Police are looking for the tractor-trailer driver after a big rig collision killed one person and injured four on Interstate 10 Sunday night, December 25, 2022.
The crash reportedly transpired around 9:45 p.m. on Interstate 10, west of state Route 62.
According to authorities, a tractor-trailer was driving eastward on Interstate 10 when the driver made an unsafe lane change directly into the path of a Toyota Camry.
As a result, the Camry driver swerved out of the way, lost control of the vehicle, went off the south end of the road, and flipped.
The vehicle did not allegedly collide on the road, and the big rig driver fled the scene.
As a result, a 14-year-old girl, a 15-year-old girl, and the driver, a 32-year-old man, were ejected from the vehicle. The driver, Everaldo C., was killed on the spot.
Meanwhile, the 15-year-old girl and the baby suffered minor injuries. The 14-year-old girl was seriously injured.
The lone passenger who was not ejected from the vehicle, a 35-year-old lady, suffered minor injuries.
According to investigations, no one in the vehicle was properly restrained.
Authorities requested that anybody with information on the tractor-trailer driver contact investigating officer Kevin Campbell at 951-769-2000.

Fatal Hit-And-Run Crash Statistics
According to the AAA Foundation for Traffic Safety, 680,000 people are injured or die in hit-and-run accidents in the United States annually. The number of deaths related to hit-and-runs is growing, as per current figures. In 2020, these events accounted for 24% of pedestrian deaths.
A hit-and-run occurs when two vehicles crash and the driver fails to stop to assist the wounded party.
Aside from the distress and financial difficulties involved with car accidents, hit-and-runs have detrimental implications for victims due to delayed medical attention.
Distracted drivers are most likely to injure pedestrians. While driving, a driver may talk on the phone, change the radio, or interact with passengers—the danger of missing someone crossing the street increases when multitasking.
In these circumstances, clothing in bright colors is the safest way to avoid harm. Crossing the street should be done cautiously and only when the oncoming car can see you.
Hit-And-Run Accident Lawyers in Riverside County
A hit-and-run accident victim with life-threatening injuries frequently ends up with medical bills and several years off of work. Victims may also experience physical and mental distress.
It might be difficult and time-consuming to obtain compensation and file a claim. When pressed by an insurance company, legal representation is the best way to defend your rights. Your claim may be denied or a lowered liability based on the evidence.
Our hit-and-run accident attorneys in Riverside County will investigate the circumstances as soon as possible. We engage with insurance providers using tried-and-true legal strategies to guarantee that damages are appropriately computed throughout the settlement process.
On behalf of our clients throughout California, our firm has recovered more than $400 million in claims. As an experienced law firm, we can assist you with any legal matters you may have.
To talk with one of our attorneys, please call (888) 488-1391 or fill out our "Do I Have A Case?" form on our website.