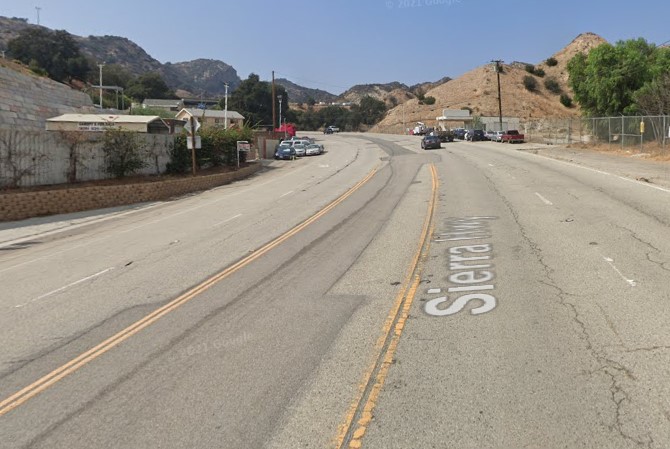 At least one person was injured and airlifted to a hospital after a two-vehicle collision in Agua Dulce, Los Angeles County, on Monday evening, December 26, 2022.
According to the California Highway Patrol, the crash occurred shortly before 9:15 p.m. on the 14300 block of Sierra Highway, just north of Davenport Road and outside of Santa Clarita.
Two cars were involved: a silver Honda Accord and a black Mercedes CLA 250. The cause of the crash remains unknown as the investigation continues.
One person was found by the responders consisting of EMTs, firefighters, and CHP officers unconscious on the ground. Although numerous other people were reportedly injured, this remains unclear.
After stabilizing the unconscious victim, they were brought to Agua Dulce Airpark to be airlifted by the Bell 412 helicopter of the Los Angeles County Fire Department Air Operations to Los Angeles County + USC Medical Center in unknown condition.
The whole crash is still being looked into by the local authorities.

Two-Vehicle Accident Statistics
Every minute in the United States of America, a person is killed and another is injured in an automobile crash. Two million children and young adults under the age of twenty-four die every year from these avoidable causes.
It has been predicted by government officials and academics that the number of traffic fatalities in California would exceed 10,000 by the year 2050.
The number of people killed in automobile accidents increased by 23.5% in 2016. There were 3,898 fatalities and 279,223 injuries due to car accidents in 2017. Nine out of every 100,000 people who rode public transportation that year died.
Nobody in the history of professional driving has ever been perilously close to getting in an accident. Being a defensive driver and keeping up with routine vehicle maintenance can help you avoid getting into an accident.
Car Accident Lawyers in Los Angeles County
Any California resident can file a claim for financial compensation in the event of an automobile accident that results in personal injury, property damage, or death. Please contact a member of our legal staff as soon as possible so that we may discuss potential outcomes for your insurance claim.
Contact us today for a free consultation with one of our attorneys if you or a loved one has been hurt or killed and you want to learn more about your rights and options in pursuing a personal injury or wrongful death claim.
Our trusted car accident lawyers in Los Angeles County have the recognition and vast experience advocating for accident victims. Our clients have been awarded compensation totaling $400 million.
Contact (888) 488-1391 or click the "Do I Have a Case?" on our website to schedule a free consultation with one of our lawyers.