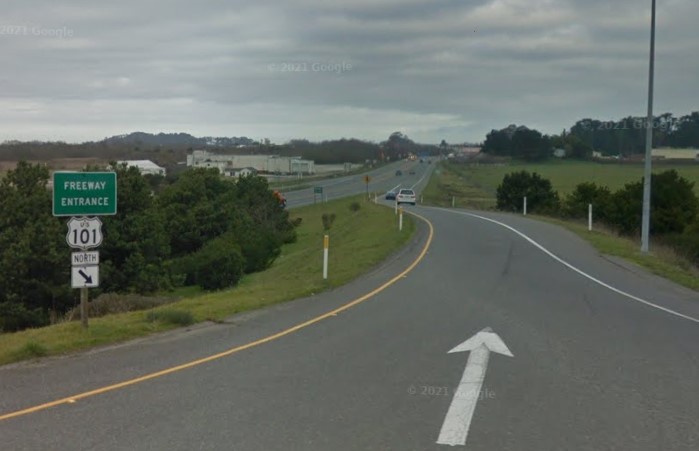 An unidentified pedestrian was fatally struck by multiple vehicles in Humboldt County on Tuesday night, December 27, 2022.
According to reports, the deadly crash transpired around 6:00 p.m. on Highway 101 at Herrick.
Authorities confirmed that the victim was lying halfway down the southbound fast lane and was pronounced dead at the scene.
The Subaru that allegedly struck the victim was severely damaged on the roof and the windshield.
Highway 101's northbound lane was temporarily closed while officers collected evidence.
Southbound traffic was being redirected into a single lane, which was then routed onto the Herrick Avenue offramp; however, cars could return to Highway 101 through the Herrick Avenue onramp.
The California Highway Patrol managed traffic at the scene, but traffic was backed up northbound and southbound.
Authorities are still investigating the cause of the collision.

Fatal Pedestrian Collision Statistics
The Governors Highway Safety Association estimated that 7,485 pedestrians died in 2021, the most prominent figure in more than 40 years.
The number of speed-related pedestrian deaths increased from 7.2% to 8.6% in 2020. The impact of speed on pedestrian safety is substantial. As vehicle speed rises above 58 mph, pedestrian mortality increases by 90%.
Across the United States, 5,937 pedestrians were killed in 2016. The death rate was expected to reach 88 individuals per minute through the end of the year. Approximately 137,000 pedestrians sought medical attention in 2017 as a result of injuries.
Pedestrian fatalities and crashes are most common in California. Around 14,000 injuries occurred to pedestrians, and 893 pedestrians lost their lives in 2012.
Pedestrians need to stay on the sidewalks, avoid drugs and alcohol, and continue with caution when crossing parking lots and driveways. By following this advice, they will be less likely to be injured in an accident.
Pedestrian Accident Lawyers in Humboldt County
If you were injured following a pedestrian accident, a lawyer can help you decide whether you should pursue legal action against the individual responsible for causing it.
You are more likely to secure a favorable settlement if you have legal representation. They ensure that all relevant paperwork is done precisely and promptly during the insurance application procedure.
Our pedestrian accident attorneys in Humboldt County have a successful track record of defending pedestrian accident victims and will put that experience to work for you. We have collected $400 million in compensation for our clients across the state.
Contact us at (888) 488-1391 or by visiting our website and clicking on the "Do I Have a Case?" link.