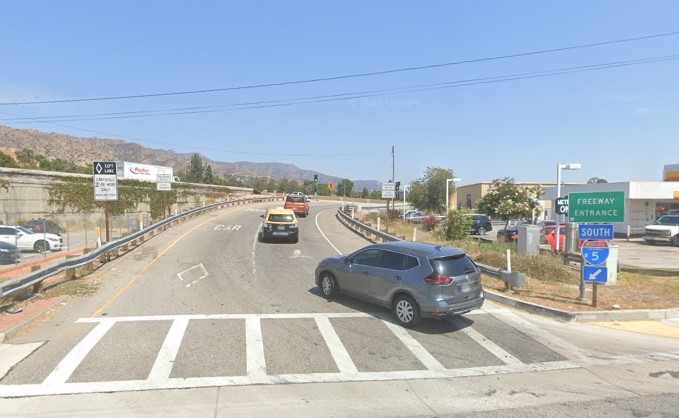 A total of five people were injured following a solo car crash in Los Angeles on Wednesday morning, December 28, 2022.
According to the California Highway Patrol, the crash occurred around 12:50 a.m. on the 5 Freeway in the Sun Valley neighborhood in San Fernando Valley.
Responders from the Los Angeles City Fire Department learned that the car left the roadway, careened into a wash below the freeway, and flipped two or three times before coming to rest on its roof.
The vehicle reportedly had five occupants. Three people were thrown as the car flipped over while the other two were in the wash at the car. The two victims were brought up by firefighters using ladders.
All of them were taken via ambulance to a nearby hospital in unknown conditions. No details on their identifications were released.
CHP officials shut down the 170 South split in the 5 Freeway for an unknown duration as they continued their investigation.

Car Accident Statistics
There was a rise in traffic fatalities in 2020, according to the National Safety Council, because of things like people not using their seatbelts, going above the speed limit, and driving under the influence of drugs or alcohol. Since death rates had been falling for the prior three years, this 8.3% increase comes as a huge shock. Deaths from automobile accidents increased to 42,338 in 2020 from 39,107 in the previous year.
Despite this increase, the number of deaths caused by autos has dropped from 33 in 1913 to just 1.53 in 2020. There were only about 1.3 million cars on the road in 1913, but they were responsible for 4,200 deaths. There were 276 million cars on the road in 2020, resulting in 42,338 deaths.
There were fewer people, fewer cars, and fewer kilometers driven in 2020 than there were in 2010; the population was up 0.4%, but the number of cars was down 0.2%, and the distance traveled was down 11.0%. Consequently, there was an increase of 7.9% for people, 8.5% for cars, and 21.7% in deaths per vehicle mile.
Over 4.81 million people needed medical attention in 2020 due to injuries sustained in automobile collisions. It was anticipated that $473,2 billion were needed to treat the injuries sustained by people in motor vehicle accidents. Businesses incur costs in the form of lost productivity, employee absences, and repairs to company cars that are damaged or require repairs because of employee accidents.
Car Accident Lawyers in Los Angeles
If you're a California resident and you're hurt in an automobile accident, you can sue the at-fault party for damages. Get in touch with a member of our legal staff as soon as possible to discuss potential avenues for resolving your insurance claim.
Contact us right away for a free consultation with one of our specialists if you or a loved one has been hurt and you'd want to talk about your legal options in the event of a personal injury or wrongful death litigation.
Our trusted car accident lawyers in Los Angeles have the recognition and vast experience advocating for accident victims. Our clients have been awarded compensation totaling $400 million.
Contact (888) 488-1391 or click the "Do I Have a Case?" on our website to schedule a free consultation with one of our lawyers.