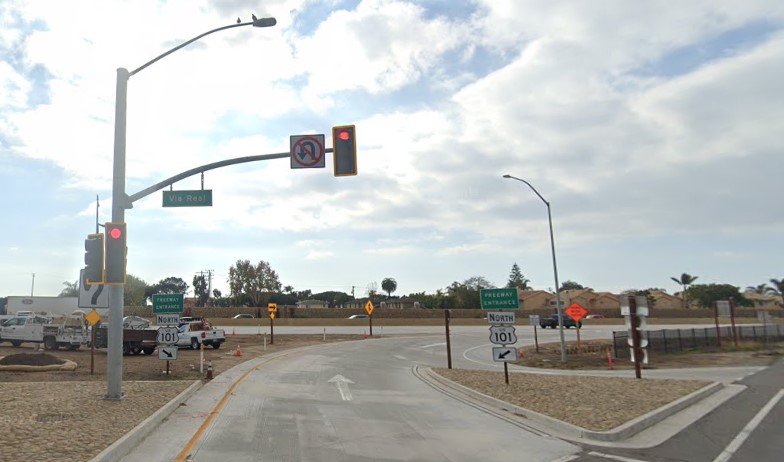 At least one person was injured following a multi-vehicle collision in Carpinteria on Wednesday afternoon, December 28, 2022.
According to the California Highway Patrol, the three-vehicle crash occurred around 1:49 p.m. on northbound Highway 101 at Santa Monica Road.
Responders from the Carp-Summerland Fire Department arrived on the scene to find one vehicle slightly damaged and two vehicles moderately damaged that required towing.
The crash reportedly happened because the drivers were trying to avoid a stray dog running down the road's center divider. A black German Shepherd allegedly ran up the exit off-ramp and into the southbound highway after the owner pulled over their black truck at Padaro Lane.
Carp-Summerland Fire reported at least one minor injury, but it, fortunately, didn't necessitate hospitalization.
Further investigation into the collision is being done by the authorities, including the whereabouts of the missing dog.

Multi-Vehicle Accident Statistics
Once every minute, a report of a car accident reaches the National Highway Traffic Safety Administration. More than 3,000 people have been killed in traffic accidents in the Golden State, and experts estimate that human error was a factor in 94% of those cases.
The National Safety Council estimates that over 110,000 Americans die every year as a result of traffic-related incidents in the United States. As a direct result of these disasters, at least 3,898 people have been killed and 2,710,000 have been injured in the State of California alone.
There has been an increase in the mortality rate of 23.5% annually since 2013, and it is expected that this trend will continue in the future.
The term "multi-vehicle collision" in this context means an accident that concerns three or more automobiles involved in the accident. According to data released by the National Highway Traffic Safety Administration in 2010, an estimated 13,000 people were killed in crashes involving multiple vehicles in 2010 alone.
Car Accident Lawyers in Santa Barbara County
If a loved one was killed or injured in an automobile accident in California, the surviving family members have the same rights as those affected by any other accidental death or injury.
If you or a loved one has been injured and you are thinking about pursuing a personal injury or wrongful death claim, then do not hesitate to contact a lawyer from our prestigious firm.
Contacting us for a free consultation with one of our lawyers is the first move you should take if you want to improve your chances of success.
Our trusted car accident lawyers in Santa Barbara County have extensive experience and distinctions advocating for accident victims. Our clients have been awarded compensation totaling $400 million so far.
Contact (888) 488-1391 or click the "Do I Have a Case?" on our website to schedule a free consultation with one of our lawyers.