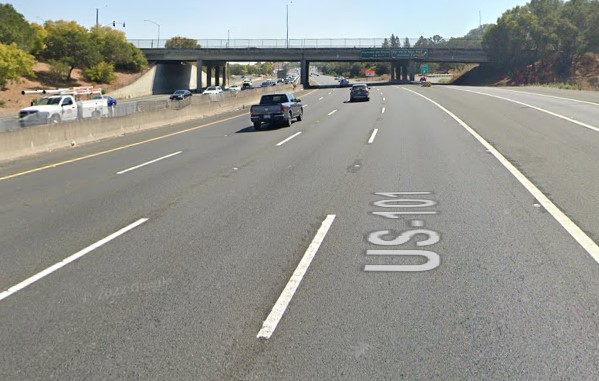 Two people were killed and three others injured after a single-vehicle crash in Novato on Thursday night, December 29, 2022.
Reports indicate that the collision transpired around 11:43 p.m. on US-101, close to Ignacio Boulevard.
According to authorities, a 16-year-old male drove a 2008 Honda Civic, lost control, and hit the cement center divider. The car traveled north when it overturned and landed in the opposite direction.
Due to the impact, the driver was critically injured and died at the scene.
The rear-seat passenger, a 17-year-old girl, was seriously injured and declared dead on the spot.
Authorities claim three other teenagers were transported to the hospital with serious injuries. Two of them are 17 and the other is 18 years old.
The two teenagers who died were using seat belts. Both the male and female victims were from San Rafael, California.
Authorities withheld the victims' identities.
As a result of the collision, the CHP issued a Sig-alert and all southbound lanes of Highway 101 were shut.
The CHP reported that all lanes were restored by 2:20 a.m. on Friday.
The cause of the collision is being looked into.

Fatal Single-Vehicle Crash Statistics
The Centers for Disease Control and Prevention estimate that 1.35 million individuals die yearly on highways. These fatalities commonly involve motorcyclists, cyclists, and pedestrians.
Crash deaths are the eighth-leading cause of mortality globally and the number one killer of children and teenagers.
In the United States, 1.37 fatalities occurred for every 100 kilometers traveled as of 2020. During the first quarter of 2021, traffic deaths climbed by 18.4% compared to the previous year.
A single-car collision might happen for several reasons. Run-off-the-road accidents occur when a driver is speeding or making quick maneuvers on a wet, slick road and loses control of their vehicle. Streets may be covered in debris, including branches and items that have fallen off lorries.
Seatbelt use, keeping your eyes open, and steering clear of distractions while driving can reduce the risk of these accidents. Even with precautions, people risk being involved in these tragic traffic incidents.
Trusted Car Accident Lawyers in Novato
You must obtain legal counsel if an automobile accident left you with serious injuries. It is essential to contact one right away. The sooner you file a claim for damages, the higher your chances are of keeping your legal rights.
You should hire a lawyer who has handled vehicle accident cases to ensure that your claim is dealt with fairly. Your attorney will evaluate the specifics of the accident and then provide you with their professional opinion.
To win your case, you can seek assistance from our car accident attorneys in Novato. You won't have to pay anything out of pocket because of our contingency fee arrangement, and you'll be compensated for your losses.
Fill out the "Do I Have A Case?" form on our website or contact us at (888) 488-1391 to schedule a free consultation.