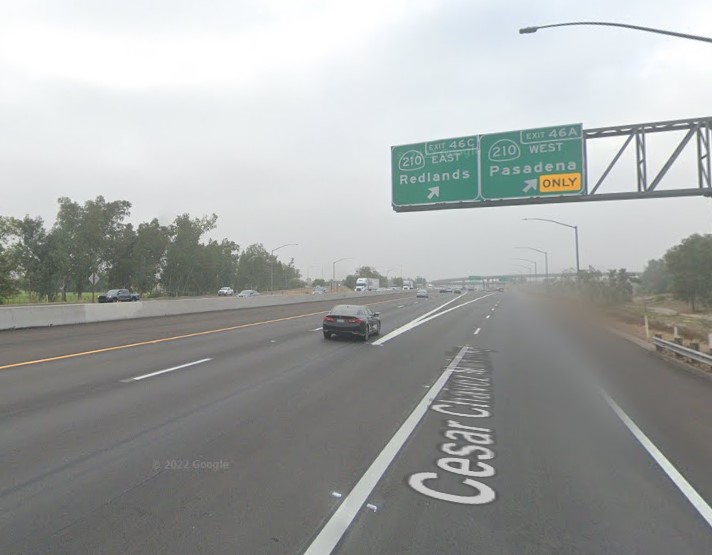 One pedestrian was fatally struck by a vehicle in San Bernardino early Thursday morning, December 29, 2022.
According to reports, the collision transpired around 1:18 a.m. on southbound Interstate 215 near the intersection between the eastbound and westbound 210 freeways.
Authorities state that a car collided with someone walking or riding a bike along the interstate, and they discovered the victim at the transition ramp's middle divider.
After CPR efforts on the scene failed, the pedestrian was pronounced dead.
The driver involved in the collision remained and cooperated with investigators.
Authorities are currently investigating the crash.
Anyone with information is urged to call (909) 806-2400.

Fatal Pedestrian Collision Statistics
The Governors Highway Safety Association statistics indicate 7,485 pedestrian fatalities occurred in 2021, a new high for the previous 40 years.
In 2020, speeding was responsible for 8.6% of pedestrian deaths, up from 7.2% in 2019. The speed of a vehicle has an impact on pedestrian safety. The likelihood of a pedestrian being killed increases exponentially with vehicle speed, increasing from 10% at 23 mph to 90% at 58 mph.
Pedestrian accidents frequently result in tragic outcomes. Pedestrians would be severely injured in car-pedestrian collisions.
On American highways, pedestrian accidents are currently causing more injuries and fatalities. In the past, pedestrians were involved in many car accidents.
Pedestrians are frequently reminded to use pathways, avoid drinking or using drugs while walking, and exercise caution when crossing parking lots and driveways. This lowers their chances of being injured in these interactions.
Pedestrian Accident Lawyers in San Bernardino
Even when a crosswalk is not required, pedestrian safety should always take priority. Pedestrians are always given priority in accidents with other vehicles. Legal action will be pursued if the negligent party is accused of breaking the law.
It can be confusing what to do after making an insurance claim. You may rely on our firm to successfully manage your case.
Compensation from the responsible party or their insurer may minimize your financial burden. A lawyer who is skilled in navigating the complex legal system will be able to help you win your case through this challenging procedure.
Our San Bernardino pedestrian accident attorneys prioritize the needs of our clients at all times. We aim to bring you back to your routine as quickly as possible following a severe injury.
Call us at (888) 488-1391 or fill out the "Do I Have A Case?" form on our website to learn more about your legal options.