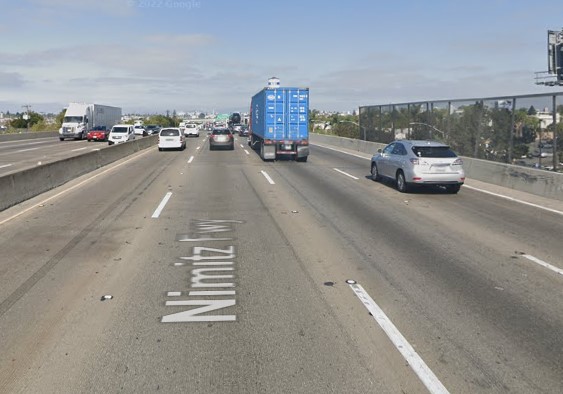 Two drivers suffered minor injuries following a multi-vehicle collision involving an overturned big rig in Oakland on Friday morning, December 30, 2022.
According to the California Highway Patrol, the three-vehicle crash, including the truck, occurred around 2:00 a.m. on northbound Interstate 880 at Fruitvale Avenue, north of High Street.
A tractor-trailer reportedly overturned across all lanes on the highway after it struck a black Infiniti in the right lane. The Infiniti driver claimed they were out of the car checking a tire when they were hit by the truck.
The two drivers both sustained minor injuries from the crash. It remains unclear what exactly happened as the investigation by the authorities continued.
The overturned truck caused the traffic to back up on the Nimitz Freeway as the highway was closed for hours.

Truck Accident Statistics
Since trucks are more robustly constructed and cover their occupants better, truck drivers are less likely to be wounded in accidents than drivers of other vehicles or pedestrians. National Safety Council reports that this is the leading cause of death for both motorists and pedestrians.
Trucks are a major cause of death on American roads, with an estimated 4,000 lives lost each year. Large vehicles account for only 2% of accidents but 11% of fatalities.
Heavy commercial trucks in California are limited to 55 mph by both state and federal law. Reducing the maximum speed limit for semi-trucks would help reduce the number of accidents involving these vehicles.
Each year, more than 28,000 accidents involving trucks are reported in California, according to the state's Office of Traffic Safety. In 2017, 359 people lost their lives, while another 9,000 were injured.
Truck Accident Lawyers in Oakland
In California, victims of truck accidents have the same right to file lawsuits on behalf of their injuries as victims of other forms of traffic incidents. Our well-regarded law firm is here for you if you're in need of legal representation in this area.
One of our attorneys will meet with you to discuss your case in an effort to improve the settlement you receive.
Our trusted big rig accident lawyers in Oakland have extensive experience and accolades advocating for accident victims. Our clients have been awarded compensation totaling $400 million.
Call (888) 488-1391 now or click the "Do I Have a Case?" on our website to set up a free consultation with one of our attorneys.