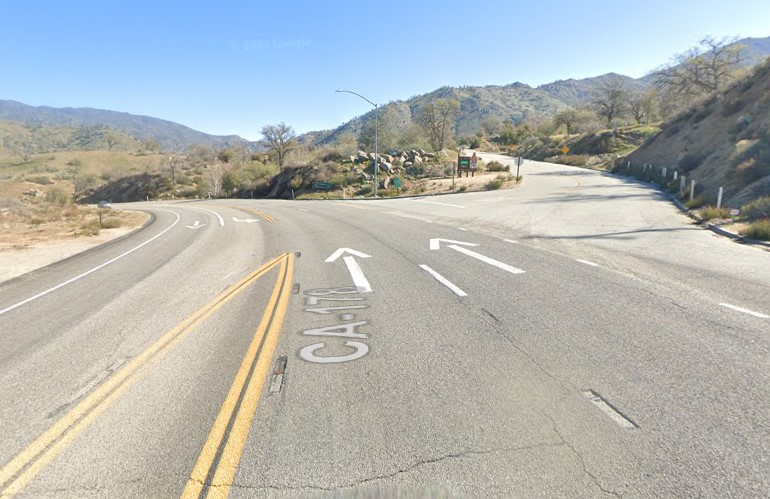 Authorities said two elderly people were killed in a two-vehicle collision in Kern County on Friday morning, December 30, 2022.
According to the California Highway Patrol, the fatal crash between two cars occurred around 9:22 a.m. along Highway 178, east of Powerhouse #1.
A Toyota Corolla driven by a 64-year-old woman from Weldon, with a 66-year-old male passenger from Lake Isabella, was heading west on Highway 178 at an unspecified speed.
The Corolla lost control, swerved, and crossed over the double yellow lines separating the lanes after the driver failed to turn safely in a curved stretch of the road.
The car drove straight into the path of a Ford F-150 driven by 48-year-old John R. from Bakersfield at roughly 40 mph. The two then crashed into each other.
Both elderly people from the Corolla passed away from the wounds, while the Ford driver was reportedly unharmed.
Alcohol or drugs do not appear to have been a factor in the collision, according to CHP. The accident is still being looked into.

Fatal Two-Vehicle Accident Statistics
Every minute, an automobile accident results in the death of one person and the serious injury of another in the United States. Over two million children and young adults under the age of 24 die every year from these preventable causes.
Predictions provided by government officials and academics indicate that by 2050, the number of fatalities on California's roadways will have risen to almost 10,000.
Cars were responsible for a 23.5% increase in fatalities last year. There were 3,898 fatalities and 279,223 injuries attributed to car accidents in 2017. Nine people per 100,000 who rode public transportation that year died.
Most professional drivers have come close to being seriously injured or killed while on California's dangerous roads. If you are a careful driver and keep up with your car's routine maintenance, you should be able to avoid any unwanted collisions.
Car Accident Lawyers in Kern County
If you or a loved one are a California resident and have been injured in a vehicle accident, you have the legal right to pursue financial compensation from the party responsible. Please contact a member of our legal team as soon as possible so that we can begin looking into ways to settle your insurance claim.
Please don't hesitate to contact us now for a free consultation with one of our attorneys if you or a loved one has been hurt or murdered and you'd want to discuss the possibilities of pursuing a personal injury or wrongful death claim.
Our trusted car accident lawyers in Kern County have the recognition and vast experience advocating for accident victims. Our clients have been awarded compensation totaling $400 million.
Contact (888) 488-1391 or click the "Do I Have a Case?" on our website to schedule a free consultation with one of our lawyers.