A deadly two-vehicle collision in Oakland resulted in one death and four injuries on Friday afternoon, December 31, 2021.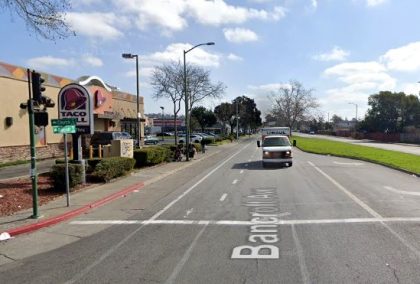 The fatal collision transpired at approximately 4:45 p.m. at the intersection of Bancroft Avenue and Church Street in Oakland.
An eastbound Dodge Caravan was traveling at high speeds and ran a red light at the intersection. It was then broadsided by a northbound Chrysler 200 on North Street.
Due to the severity of the impact, the Chrysler was pushed towards a westbound Jeep Compass and crashed into it.
Unfortunately, the Chrysler driver was killed in the mishap. He was pronounced dead at the scene. Meanwhile, the Jeep driver and her two passengers were taken to an area hospital with unspecified injuries.
The Dodge driver was also injured in the crash and was treated at the hospital. After authorities found a gun in his vehicle, he was later placed under arrest. Additional information about the accident is unavailable at the moment.
An active investigation of the case is currently underway. Witnesses that can give more information about the crash are urged to call police traffic investigators at 510-777-8570.

Fatal Two-Vehicle Collision Statistics
A car collision occurs somewhere in the United States every sixty seconds. This is hardly surprising, given the large number of vehicles that use the nation's roads each day.
If there are a lot of automobiles on the road, there will be traffic congestion as well as bottlenecks and (most importantly) serious car accidents.
In recent years, the number of people killed or injured in car accidents in the United States has climbed significantly. According to the National Safety Council, an estimated 38,000 Americans lost their lives in car accidents last year.
Many people have died in road accidents in California in recent years. In 2018, there were 3,563 people killed in car accidents in California, according to the state's Office of Traffic Safety (OTS). Thousands of Californians are mourning the deaths of loved ones due to the state's recent catastrophic incidents.
Fatal Collision Lawyers for Victims in Alameda County
In every car accident, it's hard. While it's normal to feel overwhelmed after an accident like this, it's likely important to hire a lawyer with a lot of experience to help you get the money you deserve.
You might wonder how you'll ever be able to live your normal life again after losing a loved one in a deadly car accident. It won't be easy, but you can learn to cope and rebuild your life.
People who lose a loved one in a car accident often find it helpful to meet with a fatal accident lawyer who is caring.
Alameda County collision lawyers from Arash Law can assist you with your wrongful death claim. Our firm has learned how to help our clients get what they deserve throughout the years. We have offices in Los Angeles, Sacramento, San Francisco, Riverside, Orange County, and San Diego, and we're happy to come to you. Call (888) 488-1391 to get a free consultation with a wrongful death lawyer in California by phone.