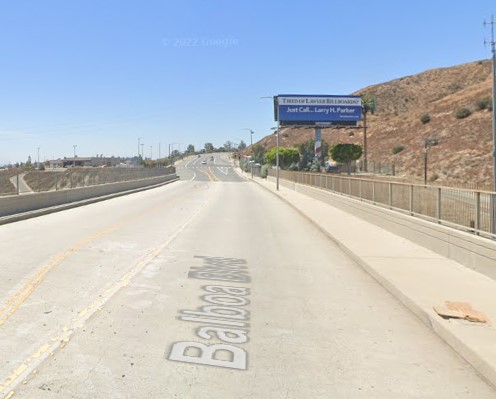 A multi-vehicle crash resulted in one injury in Los Angeles early Saturday morning, December 31, 2022.
Reports confirmed that the collision transpired around 6:00 a.m. at the Balboa overpass on the southbound 5 Freeway.
Authorities responded to calls of the crash involving five to six automobiles blocking the 5 Freeway HOV and number one lane and cars with no lights and one on its side.
One victim, complaining of a broken leg, was taken to the hospital by AMR ambulance.
For nearly an hour, CHP issued a SigAlert for all lanes.
The 5 and 210 Roadway intersection is where CHP discovered one more vehicle on the freeway.
Officials state that the SigAlert was canceled at 7:40 a.m. once all vehicles had been towed.

Multi-Vehicle Crash Statistics
Vehicle accidents exceed all other kinds of accidents in terms of severe injuries and fatalities among Americans. Each year, traffic accidents result in up to 200,000 deaths and serious injuries.
Every 60 seconds, a car accident occurs, based on data from the National Highway Traffic Safety Administration (NHTSA). In 2016, there were over 3,300 fatal car accidents in California. Human error accounts for more than 94% of all accidents.
Car accidents are estimated to cause one in ten fatalities in the US each year. In car accidents in California in 2019, 3,889 persons lost their lives, and over 2,765,000 others sustained injuries. The number of fatalities and injuries brought on by auto accidents has climbed by 23.5% since 2013.
Three or more automobiles are involved in a multi-vehicle accident. In the ruins of an automobile accident, there may be enough for six vehicles.
Compared to multi-vehicle crashes, traffic accidents are less likely to result in fatalities, significant injuries, or property damage. If someone loses control or has poor situational awareness, those close ones could be hurt. In most circumstances, the likelihood of such a crash happening is higher.
Trusted Car Accident Lawyers in Los Angeles
Every person in a car accident has suffered both physical and psychological pain. Consideration must be given to the costs of care and lost productivity.
You might be entitled to compensation if a family member was hurt in a car accident. Attorneys play a huge role in the settlement you obtain in state civil courts.
If you or a loved one suffered an injury in a car accident, don't hesitate to set up a free initial consultation and case evaluation with our legal team. Our main objective is to fulfill our clients' demands and ensure they are fairly compensated for their injuries.
Our car accident lawyers in Los Angeles can assist you in these legal proceedings due to their significant experience. More than $400 million in compensation has been obtained for our clients in California.
Contact one of our attorneys for a free case evaluation at (888) 488-1391 or use the "Do I Have A Case?" form on our website.