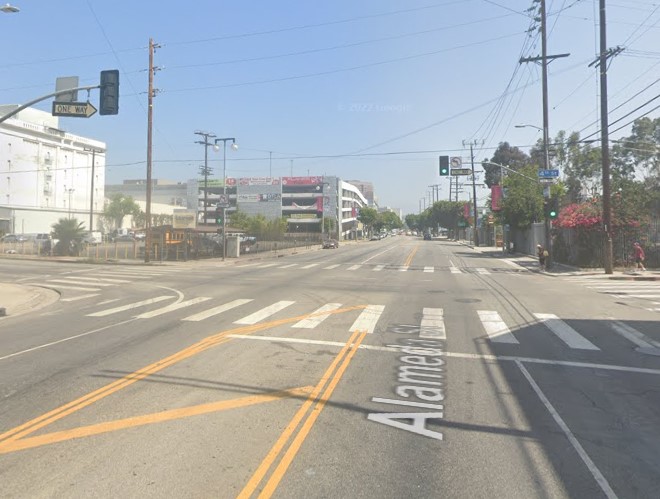 A suspected DUI crash left one driver and an off-duty police officer injured in Downtown Los Angeles early Saturday morning, December 31, 2022.
The collision reportedly transpired around 2:34 a.m. at Alameda and 4th Street intersection.
Authorities received calls that a victim was trapped in the collision.
When responders arrived, they discovered two vehicles in the junction but no trapped individuals.
The officer was struck by a driver suspected of being impaired, but due to the severity of the injuries, DUI was not immediately confirmed.
The officer and the other driver were both taken by ambulance to a nearby medical facility.
The police officer was observed walking to the ambulance and is said to be in stable health.

DUI Accident Statistics
According to the National Highway Traffic Safety Administration, there are 32 fatal drunk driving collisions in the United States daily. Eleven thousand six hundred fifty-four people died in traffic accidents in 2020 due to drunk driving, a 14% rise from 2019.
Alcohol-related crash deaths increased by 5.8% in 2017 after rising by 6.9% in 2016, per the California DUI Management Information System.
Drunk driving is dangerous for passengers, other drivers, and the environment. Every year, 2 billion gallons of fuel are lost due to the reckless driving of intoxicated drivers.
Given these figures, everyone should monitor their alcohol intake and refrain from driving after drinking.
DUI Accident Lawyers for Victims in Los Angeles
After being struck by a car, DUI accident victims rarely recover and return to their previous level of functioning. Accordingly, vehicle-related injury is covered by California's injury law.
You might be qualified to file a personal injury lawsuit against the negligent driver who hit you and injured you. Accident victims usually encounter difficulties, including lost wages, prolonged rehabilitation, and expensive medical expenses.
Our DUI accident victims' lawyers in Los Angeles are passionate and aggressive advocates of clients who have suffered injuries in drunk driving collisions. Drivers who are intoxicated must face the consequences of their dangerous choice to get behind the wheel. It is only just for those drunk drivers to be held accountable for their actions.
Our legal team works hard to get our clients the maximum compensation possible so they can support their families and pay for any necessary medical care.
Contact our office at (888) 488-1391 if you or someone you love has been injured by a drunk driver, or fill out the "Do I Have A Case?" form on our website.