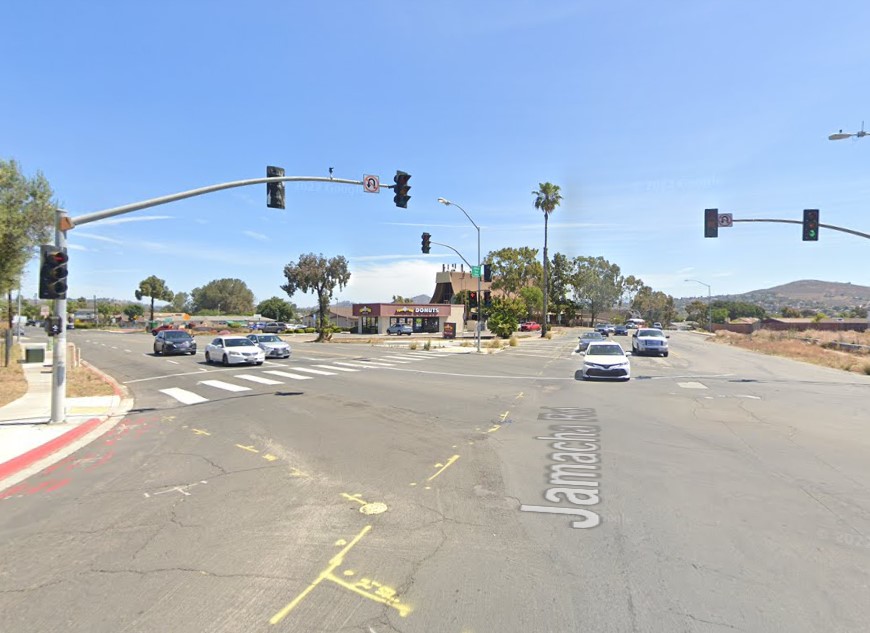 At least one person was injured when a visiting family got struck by a hit-and-run driver in San Diego on Sunday morning, December 31, 2022.
According to the San Diego Police Department, the crash occurred at Jamacha Road and Cardiff Street in the Lomita neighborhood.
Maggie R. was driving a rented Mustang convertible in Jamacha Road's left turn lane, attempting to turn into Cardiff Street, when a Dodge Challenger allegedly ran a red light, lost control due to speeding, and clipped a truck before hitting Robles' car.
The victim claimed her car was severely hit and that it ended up in the Yum Yum Donuts driveway. She had her son and daughter-in-law riding along, and they were scared it would catch fire when smoke began filling up inside.
The group required extrication from the car, where Robles sustained hand injuries and complained of pain on the left side of her body. The extent of possible injuries remains under investigation.
The police reportedly had the license plate number after the vehicle fled the scene. The driver was thought to be military personnel.
No arrests have been made thus far as the investigation continued.

Hit-and-Run Accident Statistics
Causing an accident and speeding away from the scene is a serious offense in the United States. It's very possible that the driver will be found guilty and given a heavy sentence if they're captured.
At least one U.S. motorist causes an accident and then flees the scene every day. There have been over 2,000 fatalities in such incidents since 2006. Estimates place the number of pedestrian deaths at about 60%.
For every five times a pedestrian is hurt in a collision, just one driver will be arrested. Numerous drivers have left their vehicles on the side of the road, whether because they were drunk, had license problems, or just didn't want to be caught.
Even if the overall number of traffic fatalities went down by 14% between 2007 and 2016, the number of pedestrian fatalities increased by a startling 27% during the same period.
In California, between 2009 and 2016, hit-and-run accidents caused over half of all accidental deaths. The state of California accounted for the 3,562 deaths that occurred across the United States.
Hit-and-Run Accident Victim Lawyers in San Diego
When an accident occurs in California, the victim's rights are not affected if the at-fault party leaves the scene.
In the case of an accident, our skilled legal team is here to help you file a physical injury or wrongful death lawsuit.
Get in touch with one of our highly qualified attorneys to discuss your case and learn more about how to present your claim in order to maximize the compensation you receive.
Our trusted hit-and-run accident lawyers for victims in San Diego have extensive experience and accolades advocating for accident victims. Our clients have been awarded compensation totaling $400 million.
Call (888) 488-1391 now or click the "Do I Have a Case?" on our website to set up a free consultation with one of our attorneys.