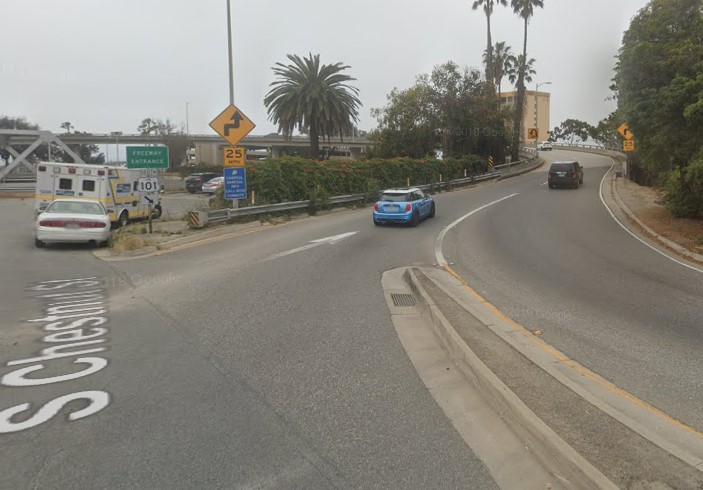 Four individuals were injured following a single-vehicle collision in Ventura on December 31, 2022.
The crash reportedly occurred on Saturday on the southbound 101 Freeway close to S. Chestnut Street.
According to authorities, the vehicle rolled over after hitting the right railing.
As a result, all four victims, who range in age from 24 to 40, suffered a variety of wounds, including a significant head injury, broken ribs, and complaints of pain.
They were immediately transported to a hospital for treatment, where one of the patients was in critical condition.
Authorities determined that one cause of the crash was the rainy weather. DUI was not regarded as a contributing factor.
Those who witnessed the crash are asked to call the CHP's Ventura office at (805) 662-2640.

Single-Vehicle Collision Statistics
As per the Centers for Disease Control and Prevention, 1.35 million people die on American roads yearly. Bicyclists, motorcyclists, and pedestrians frequently pass away in these crashes.
Car collisions are the eighth-leading cause of fatalities worldwide and the leading cause of death of children and teenagers.
In the United States, 1.37 fatalities for every 100 kilometers traveled in 2020. As of the first quarter of 2021, there were 18.4% more traffic fatalities than in the same period last year.
A single-car collision could result from several factors. A driver loses control of their vehicle after speeding or making sudden maneuvers on a wet, slick road, leading to a run-off-the-road catastrophe. The street could be covered in trash, such as branches or items falling off trucks.
Wearing a seatbelt, staying focused, and avoiding distractions is essential while driving. People risk being involved in these deadly situations regardless of safeguards.
Car Accident Lawyers in Ventura
Severe bodily and psychological consequences can result from car accidents. It could lead to expensive hospital and medical bills and a challenging legal process. When these circumstances are present, things typically go wrong.
Whenever you sustain injuries in a car accident, seeing a lawyer is a good idea. The best action after a traumatic event is to get advice from one as soon as possible. Your prospects of protecting your legal rights are increased the earlier you file a claim.
Our car accident attorneys in Ventura County can help you obtain your due financial compensation. Similar cases have been handled by our firm for years, resulting in damage claims totaling more than $400 million for clients across the state.
Our legal team guarantees that you receive fair compensation for your losses without having to pay anything in advance.
Contact us at (888) 488-1391 or through our website's "Do I Have A Case?" link to arrange a free consultation.