Lindsey struck and killed woman on bicycle near Firestone Boulevard and Imperial Highway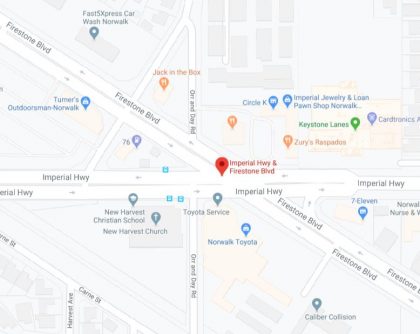 An unidentified woman was tragically killed after she was suddenly hit by a motorcycle last February 1 in Norwalk. The woman was said to have been riding her bicycle along Firestone Boulevard and Imperial Highway when the hit-and-run motorist suddenly struck her. 
The woman was immediately rushed to a local hospital, unfortunately, she was pronounced dead later. The suspect was identified to be a man named Brandon James Lindsey. The man fled the scene right after hitting the woman. 
The suspect was caught 12 days after the incident by the authorities from the Los Angeles County Sheriff's Department. It turns out, the man was given a no-bail arrest warrant by the Norwalk Court for assault with a Deadly Weapon charge in the past. In this case, the suspect will be charged with felony vehicular manslaughter and felony hit-and-run for fleeing the scene. 
Fatal DUI Crash Investigation
It is apparent that the liability, in this case, goes to Lindsey as he attempted to escape responsibility by fleeing from the scene rather than calling 911 to help the victim receive proper medical attention. 
Leaving the scene after an accident is in itself considered a crime, sadly statistics show that around 11% of all crashes involve a hit-and-run driver. Most of the suspects would try to escape the scene either because they were intoxicated, driving without a license, or are afraid of being arrested if they stayed at the scene. 
When facing hit-and-run cases like this, it's important to have a professional lawyer by your side as they can conduct independent investigations for you while protecting your rights.  In order to effectively prove the negligence of the suspect, it is vital to have all the proper resources. It's important to consider all contributing factors such as road conditions, signage visibility, and road lighting when examining the case. 
Going through these procedures is necessary as it can help the victim's family to get the rightful monetary compensation and the justice that they deserve. With the help of a seasoned lawyer, they can serve as a helpful legal guide for the grieving family while protecting their rights and ensuring that the hit-and-run driver will be held accountable for his actions. 
California Wrongful Death Attorney
While the investigation is still on-going, the victim's family may seek compensation for the damages (such as loss of companionship, pain and suffering, and emotional distress) through a wrongful death claim. 
Losing a loved one through a hit-and-run accident may leave the family feeling overwhelmed and vulnerable. Having their rights protected at all costs is vital, a wrongful death lawyer can stay updated on the official investigation on their behalf while ensuring that the family's best interests and legal rights are protected.