One person was killed while four others were injured after a deadly head-on collision in Sunol on Sunday morning, September 8.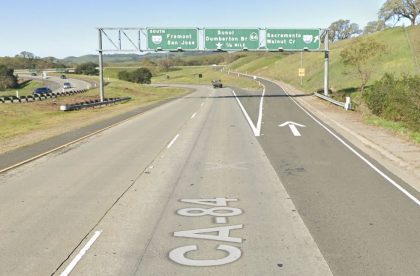 The accident transpired at approximately 6:00 a.m. on State Route 84, just east of Interstate Highway 680. A westbound Chevrolet Tahoe was traveling on State Route 84 when, for unclear reasons, the Chevrolet swerved into the opposite lanes and collided head-on with an eastbound black Dodge Charger.
The Dodge driver and its three passengers sustained major injuries and were rushed to an area hospital. Unfortunately, a child inside the Dodge succumbed to their injuries and was pronounced dead at the hospital.
Meanwhile, the Chevrolet driver also sustained major injuries and was rushed to an area hospital for treatment. Drugs and alcohol were not considered as factors in the collision. The identities of the involved parties have not been disclosed.
Local authorities are actively investigating the case. Witnesses that can give more information about the crash are urged to contact the CHP- Dublin at (925) 828-0466.

Fatal Head-On Collision Statistics
One of the most deadly types of car accidents is head-on collisions. The force of a head-on collision is substantially greater than that of other forms of car accidents.
Both the speed and weight of the involved vehicles affect the collision force in a head-on accident. Head-on collisions release a significant amount of energy. As a result of the higher energy, the deadlier the injuries are.
In 2017, the Insurance Institute for Highway Safety reported a 58 percent fatality rate for vehicle occupants in frontal impact crashes. A head-on collision is more likely to happen in rural areas. Head-on collisions account for 13% of all rural fatal crashes. Meanwhile, head-on collisions account for less than 7% of fatal crashes in urban areas.
Drunk driving, distracted driving, inexperience, and even mechanical failure can all cause head-on collisions.
Alameda County Wrongful Death Attorney for Victims of Fatal Head-On Collisions
When a fatal car accident happens, the victim's family often faces extreme stress and trauma after the sudden loss of a loved one.
If you have lost a loved one in a deadly car accident, you should know that you don't have to face this alone. Seek professional legal advice from an experienced fatal car accident attorney immediately. A car accident lawyer can help you file a wrongful death claim and speak with insurance companies on your behalf.
A wrongful death claim will allow the victim's family to seek compensation for the high medical bills and other expenses incurred due to the accident. It can also help those who have lost their income due to an injury or unexpected death.
However, you must finish your claim within two years, or you will be precluded from receiving compensation for the damages you've sustained in the accident. Talk to our attorneys from Arash Law now, and we will immediately assist you with your claim and make sure that we win your case. Call (888) 488-1391 or contact us online to schedule your free consultation.