Two people were hurt after a multi-vehicle traffic collision in San Leandro on Tuesday morning, June 15th.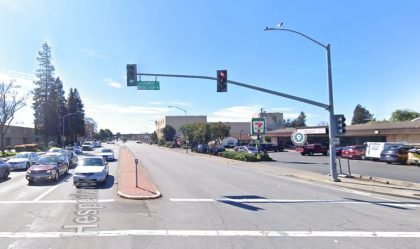 The accident happened in the area of Hesperian Boulevard and Halcyon Drive in San Leandro at around 7:40 a.m.
Three vehicles were reportedly involved in the collision. How the accident happened, and the reason why it occurred has not been established.
Firefighters later responded to the scene and had to extricate one person trapped in the wreckage.
Two people were injured with unspecified injuries. They were taken to an area hospital for further treatment.
Local authorities are currently attempting to determine the cause of the accident and pinpoint the liability.

Multi-Vehicle Collision Statistics
The Traffic Safety Facts released by the National Highway Traffic Safety Administration (NHTSA) revealed that there were an estimated 6.3 million police-reported crashes last year. These accidents caused the injuries of 2.44 million individuals on roads all across America. Many occurred because of the carelessness and negligence of other drivers.
According to the National Highway Traffic Safety Administration statistics, there were 3,304 fatal car accidents in California in 2017. Driving anywhere in California is risky. The majority of collisions, however, are preventable. 94% of all accidents are attributable to human error. These accidents are caused by various reasons, such as distracted driving, drunk driving, and driver over-fatigue.
Multi-vehicle collisions usually involve three or more vehicles. A "chain reaction commonly causes this type of accident," wherein one car will bump into another, which will cause the other vehicle to crash into another one potentially. This type of accident can be more deadly and complicated.
Alameda County Personal Injury Attorney for Victims of Multi-Vehicle Collisions
Multi-vehicle collision cases are typically more complicated to deal with compared to car accidents involving just two vehicles. Coping with a multi-vehicle collision case can be quite challenging for the victims as they have to deal with the stress and trauma they got from the accident.
Personal injury cases can quickly become complicated, especially when reviewing medical evidence and determining what factors contributed to your injury. It can take time and expertise to pull together the right materials to present a compelling case. That is why you need to hire a California personal injury law firm you can count on.
We understand the common causes, defendants, and how to fight for compensation for collision-related injuries. Our attorneys from Arash Law will vigorously fight for their client's rights and best interests while ensuring that the liable party will be held accountable for their negligence. Whether you suffered burns, broken bones, brain injury, a spinal cord injury, or other damages, talk to our attorneys from Arash Law. The road to recovery starts just a phone call away. Call (888) 488-1391 right away.