An unidentified woman was killed while another man was injured after a rear-end accident in Oakland on Sunday afternoon, February 14.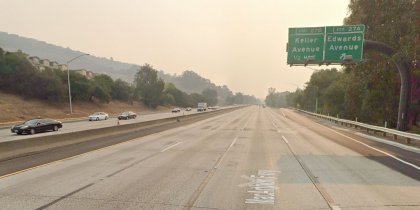 The fatal accident transpired at approximately 3:10 p.m. on the eastbound side of Interstate 580, just west of Edwards Avenue. Authorities found a green Plymouth Breeze was located on the right shoulder of the interstate with serious damage.
The officers from the California Highway Patrols suspect that another driver may have rear-ended the vehicle. The other driver was not at the scene when officers arrived.
An unidentified female passenger in the Plymouth Breeze sustained fatal wounds from the accident. She was pronounced dead at the scene.
Meanwhile, the male driver was rushed to an area hospital with moderate injuries. Information about the suspect and his vehicle is unavailable at the moment.
Local authorities are currently investigating the case. Witnesses that can provide information about the suspect's identity and whereabouts are urged to call the California Highway Patrol at (510) 457-2875.

Rear-End Accident Statistics
Rear-end accidents are some of the most common types of car accidents in the state of California. According to the California Highway Patrol (CHP), there were 118,029 drivers involved in rear-end injury car accidents and 405 drivers involved in rear-end collisions with fatalities in 2011.
A rear-end accident occurs when one vehicle collides with the car immediately in front of it. Because the leading driver cannot usually prevent the collision, a rear-end accident is often (but not always) the fault of the rear position driver.
Some common reasons why rear-end accidents occur are distracted driving, tailgating, reckless driving, and driving while under the influence.
In this case, the driver that struck the victim's vehicle did not wait for the authorities to arrive and fled the scene. Leaving the scene after an accident is a crime in itself.
California law is clear that if a motorist bumps or hits an unattended parked car, the driver must leave his or her name and contact information for the driver of the damaged vehicle. If someone's property has been damaged, it is illegal to drive away in an attempt to go undetected. To do so is a misdemeanor that can carry the maximum sentence of up to six months in jail and a fine of up to $1,000.
Alameda County Wrongful Death Attorney for Victims of Fatal Rear-End Accidents
Suddenly losing a loved one due to a deadly rear-end accident may leave the victim's family vulnerable to manipulation and bad decisions.
When facing cases like this, it's vital to have an experienced wrongful death attorney to assist the victim's family with their claim. Attorneys can serve as a helpful legal guide for the victim's family. They can also negotiate with insurance companies on behalf of their clients.
 Our team of compassionate and experienced California fatal car accident lawyers is available to help you after a loved one's death in a car accident. Arash Law has recovered more than $200 million for previous clients just like you. We serve victims and their families in San Francisco, Riverside, San Jose, San Diego, Sacramento, Sherman Oaks, and many other areas in California. We also offer legal services in many different languages.
 Call Arash Law today at (888) 488-1391 or contact us online to schedule your free no-obligation fatal car accident case review.