An unidentified man estimated to be in his 30's was killed due to a deadly wrong-way collision in Oakland on Monday morning, December 21.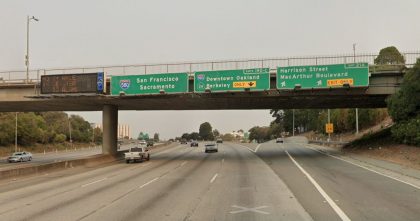 The accident transpired at approximately 12:30 a.m. on Interstate 580 in Oakland. A 30-year-old man identified as Deville Daggs was driving a black Chevrolet Suburban at an unsafe speed in the eastbound lanes of I-580. His vehicle had no license plate.
Police attempted to pursue Daggs, but he fled from the officers. He exited the freeway at MacArthur Boulevard then re-entered in the wrong direction. He drove westbound in the eastbound lanes.
A Honda Odyssey traveling on the eastbound lanes then collided head-on with the wrong-way driver. The driver of the Honda Odyssey was pronounced dead at the scene while his passenger was taken to an area hospital with significant injuries.
Daggs sustained moderate injuries from the accident and was also taken to an area hospital for treatment. After his release, he will be taken to Santa Rita Jail and will be booked on several felony charges.
Fatal Wrong-Way Collision Investigation is Underway
Local authorities are currently investigating the case. Witnesses that can give additional helpful information about the crash are urged to call the CHP Oakland office at 510- 457-2875.
Every year, approximately 355 people are killed in the U.S. due to wrong-way drivers. With the average number of wrong-way collision deaths at 265, 1.34 fatalities per wrong-way deaths are calculated. These accidents are caused by various reasons, such as distracted driving, drunk driving, and driver over-fatigue.
When facing cases like this, it's essential to have an experienced Alameda County wrongful death attorney conduct an independent investigation. Attorneys have the resources that can help them prove the negligence of the liable party. They can utilize their resources to re-interview important witnesses, review relevant surveillance footage from the scene, and obtain phone and texting records of the responsible party.
Alameda County Wrongful Death Attorney for Victims of Fatal Wrong-Way Collisions
Losing a loved one due to a wrong-way collision can come as quite a shock for the victim's family. They may be left to deal with funeral costs, medical bills, and emotional trauma.
It is recommended for the victim's family to pursue a wrongful death claim with their attorney's help. Through the wrongful death claim, the victim's family can get financial compensation for medical bills, funeral expenses, and the pain and suffering they have experienced.

If you are going through a case similar to this, we at Arash Law are here to assist you. Our firm has decades of experience and has secured million-dollar settlements and verdicts for our clients. Our law firms are conveniently spread throughout California. Call (888) 488-1391 for a FREE Consultation with a wrongful death attorney from our firm.