One person was killed while two others were injured after a major two-vehicle collision in Fremont on Friday morning, April 9.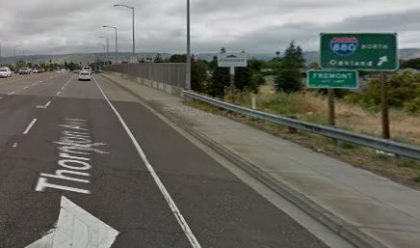 The deadly collision transpired at approximately 2:30 a.m. at Thornton Avenue and the Interstate 880 exit in Fremont.
An unspecified vehicle driven by a Newark resident was traveling northbound on Interstate 880 off-ramp; as he entered the intersection, his vehicle was suddenly hit by a westbound car for unclear reasons.
The Newark resident reportedly entered the intersection on a green light. One of the drivers was killed as a result of the collision. Two other people were hurt. They were immediately taken to an area hospital.
The collision is currently under investigation. Witnesses that can give additional information about the accident are urged to call the Fremont Police Department Traffic Unit at 510-790-6776.

Two-Vehicle Collision Statistics
Every year millions of people are injured in automobile accidents on roads across the United States. According to the United States Department of Transportation's Fatality Analysis Reporting System (FARS), there were 33,654 fatal vehicle crashes in 2018, which caused 36,560 deaths.
Car accidents occur under numerous circumstances. Many of them involve the negligent or irresponsible behavior of another driver. Fatal car crashes frequently occur on California's large and congested highways. Numerous individuals are killed each year on California's roads due to travel at high speeds and truck accidents.
The California Office of Traffic Safety (OTS) reports that there were 3,563 car accident fatalities throughout the state in 2018 alone. Thousands of people must deal with grief and sudden loss in the wake of California's deadly accidents.
Alameda County Wrongful Death Attorney for Victims of Fatal Two-Vehicle Collisions
If you recently lost a loved one in a motor vehicle accident, you are familiar with this. You might wonder how you will ever be able to live your everyday life again. It will take time, and there are no quick fixes, but you can learn to cope and rebuild your life.
One step that many families find helpful after losing a loved one in a car accident is meeting with a compassionate fatal car accident attorney. A fatal car accident attorney can't turn back the clock to make things the way they were before the car accident. However, we can help you obtain compensation for the awful, unexpected losses the crash caused in your life.
Call Arash Law today at (888) 488-1391 or contact us online to schedule your free no-obligation fatal car accident case review.