An unidentified 66-year-old man was killed after getting struck by a passing vehicle in Dublin on Monday morning, June 7th.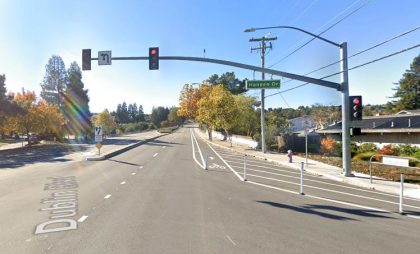 The accident transpired at approximately 9:10 a.m. on Dublin Boulevard at Hansen Drive in Dublin.
The older man was attempting to cross the intersection when he was suddenly struck by an eastbound vehicle.
The Alameda County Fire Department later arrived in the area and attempted to perform life-saving measures on the man. Unfortunately, the victim later succumbed to his injuries and was pronounced dead at the scene.
The driver that struck the pedestrian remained at the scene and willingly cooperated with local authorities. The identities of the involved parties have not been disclosed. The California Highway Patrol is currently investigating the accident.

Fatal Pedestrian Accident Statistics
Pedestrian accidents often lead to severe injury and even death. This is because pedestrians do not have protection against fatal accidents, unlike passengers of private vehicles and motorcycle riders. According to statistics from the National Highway Traffic Safety Administration (NHTSA), more than 5900 pedestrians were killed in 2016 across the entire United States.
Pedestrian accidents are becoming a growing concern in the golden state as California leads in the number of pedestrian accidents across the country. Approximately 7,500 pedestrians were killed between 2009 to 2018 in California, making the state's pedestrian fatality rate 25% higher than the national average. This type of accident is commonly caused by distracted driving, negligent driving, speeding, and drivers failing to yield to pedestrians.
Alameda County Wrongful Death Attorney for Victims of Fatal Pedestrian Accidents
A California wrongful death lawsuit must also be brought within two years of the date of the accident. A family member is precluded from bringing a wrongful death lawsuit if it is not filed within that time period.
This is why it's essential to seek the assistance of a wrongful death attorney immediately. Attorneys can assist the victim's family with their claim and represent them in court and coordinate with insurance companies on their behalf.
Our lawyers from Arash Law are available 24/7 to help. A pedestrian accident lawyer from Arash Law will help you stay one step ahead of the insurance company or responsible party and avoid mistakes that would jeopardize your claim.
Our attorneys will also perform an immediate investigation to gather evidence while it is still available. We can also handle talks with the insurance company, calculate your damages, and use proven legal strategies during settlement negotiations and potential litigation. Don't delay, and contact our firm today at (888) 488-1391 for a FREE Consultation with a wrongful death attorney.